Crowley Re-signs JAXPORT lease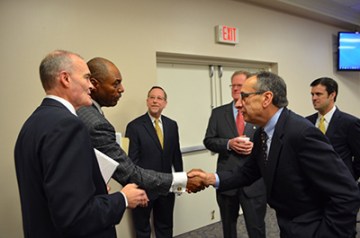 JAXPORT's Board of Directors today unanimously approved an expanded, long-term lease with Crowley Liner Services Inc., a subsidiary of the 123-year-old Crowley Maritime Corporation, a privately held family and employee-owned company headquartered in Jacksonville and operating here since 1975. Under the agreement, Crowley will relocate its Puerto Rican service from its private terminal along Jacksonville's harbor to JAXPORT's Talleyrand Marine Terminal and expand its current leasehold in preparation for deployment of the company's two new revolutionary LNG-powered Commitment-Class ships.
The new facilities lease agreement becomes effective on Jan. 1, 2017, for a term of 20 years plus two 10-year mutual renewal options, and calls for Crowley's current 12-acre Talleyrand leasehold to be expanded to 50 acres.
"This agreement clearly reinforces our commitment to the Puerto Rican trade lane and our valued partners who serve the island–both critical components of our business for more than 50 years," said JAXPORT CEO Brian Taylor. "In addition, by supporting the vision of a business like Crowley and ensuring they remain successful here in Jacksonville, we are fulfilling our larger mission to create private sector prosperity through the use of our public seaport properties."
"Over the years, Crowley has enjoyed an excellent working relationship with JAXPORT and that continues here today with this exciting development for the authority and for Crowley," said John Hourihan, Crowley senior vice president and general manager, Puerto Rico services. "Concluding this lease agreement is an important milestone for Crowley as we look to transition to state-of-the-art, Commitment-Class ships, which will require terminal space like this to allow us to perform both lift-on/lift-off (Lo/Lo) and roll-on/roll-off (Ro/Ro) cargo operations. Our ships, the first of which is under construction in Mississippi, will be larger and faster than our existing Puerto Rico vessels."
Caption: Crowley's Bill Pennella (right), Vice COB/EVP, and JAXPORT's Dr. John Allen Newman (left), Board Vice Chair, agree to the expanded, long-term lease at JAXPORT's Talleyrand Marine Terminal.