Crowley Puts Mariner Health and Wellness First with Future Care, Inc. Partnership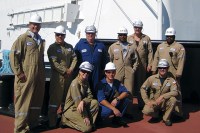 Crowley Maritime Corporation announced today that it has entered a partnership with Future Care, Inc. to ensure that the company's active mariners are receiving the best possible health care while at sea. Future Care's "Caring for the Crew" program provides 24-hour medical advice to crew aboard Crowley's worldwide fleet of vessels. 
Mariners at sea operate in remote and sometimes challenging environments where emergency and routine medical care can be limited. But, Crowley's partnership with Future Care gives them around the clock emergency access to on-call physicians and nurses 365 days a year. This program is in addition to care that mariners receive from the trained medical care providers aboard all of Crowley's vessels. 
"Future Care has dedicated itself to providing the highest quality managed health care services for ill or injured seafarers around the world," said Christina DeSimone, CEO of Future Care Inc. "We are pleased to now provide our 'Caring for the Crew' program to Crowley—one of the premier vessel and salvage operators worldwide."
In addition to emergency services, Future Care also provides routine consultations and can coordinate shoreside appointments anywhere in the world. This additional health and wellness program will help keep Crowley crewmembers working, while reducing Lost Time and OSHA reportable incidents. 
"Better management of the medical treatment of mariners helps them return to work as soon as possible and may also allow alternative work arrangements to keep mariners employed while allowing the company to continue providing best-in-class service to its customers," said Captain Margaret Reasoner, managing director of Crowley's marine personnel department. Per the Maritime Labor Convention, international shipping companies are required to ensure that all seafarers are covered by adequate measures for the protection of their health and that they have access to prompt and adequate medical care whilst working aboard. While the U.S. has not yet ratified the convention, Crowley is already showing its commitment to mariners by providing high levels of care for them both domestically and internationally.
The Future Care team consists of nurses, physicians, medical case managers and preferred medical networks. The company assigns a specially trained physician and care manager to monitor and supervise each crewmember's illness or injury. More information about Future Care can be found at www.futurecareinc.com.
# # #