Crowley Purchases Two New Jones Act Tankers from Aker Philadelphia Shipyard
Acquisition Increases Diversity of Crowley's Petroleum and Chemical Transportation Fleet,
Marks Company's Re-Entry into the Jones Act Tanker Market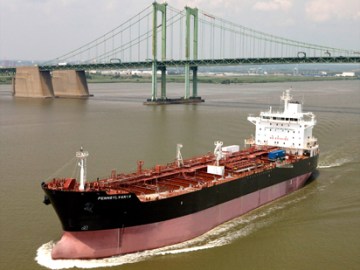 (JACKSONVILLE, Fla., August 20, 2012) – Crowley Maritime Corporation's petroleum and chemical transportation group announced today that it has purchased two new Jones Act tankers, the Pennsylvania and the Florida, from Aker Philadelphia Shipyard ASA (Oslo: AKPS). The tankers, scheduled for delivery in September 2012 and March 2013, mark Crowley's re-entry into the Jones Act tanker market since its last tanker was retired in 2011.
The addition of these new tankers also positions Crowley to now offer an even more diverse fleet of petroleum and chemical transportation vessels to its customers. The tankers will be capable of carrying nearly 330,000 barrels of a wide variety of petroleum products and chemicals. Once delivered, the vessels will operate in the U.S. coastwise trade.
"Crowley is thrilled to partner with Aker Philadelphia Shipyard and to take delivery of these new Jones Act tankers," said Crowley's Chairman, President and CEO Tom Crowley. "We are bringing the best available technology to our customers, who understand and appreciate safety and operational excellence. This is yet another example of our on-going investments in new equipment and technology to meet the current and future needs of our customers."
"Putting these vessels into service continues our commitment to offering a wide variety of solutions for the safe and reliable transportation of petroleum products and chemicals for our customers," said Crowley's Rob Grune, senior vice president and general manager, petroleum services. "As one of the largest independent operators in the U.S., we have a proven reputation for providing economical, reliable service while adhering to the most stringent safety and environmental protection standards. This tradition is certain to continue with the delivery of these two new tankers."
"We are pleased to partner with a first-class owner and operator like Crowley. Both APSI and Crowley share deep commitments to run safe and efficient operations, and I am confident that this transaction will bring significant value to both parties for years to come," said Kristian Rokke, AKPS president and CEO.
The U.S.-flagged vessels are the 13th and 14th in the Veteran Class built at Aker. This proven design provides Crowley customers with ABS-classed vessels that have been thoroughly tested and refined for performance and reliability. With a length of 183.2 m, a breadth of 32.2 m, and a depth of 18.8 m, the tankers come in at 45,800 deadweight tons with a draft of 12.2 m. Powered by the first Tier II large-bore engines, MAN-B&W 6S50MCs, the speed of the Pennsylvania and the Florida is expected to average 14.5+ knots. In addition to being double hulled with segregated ballast systems, safety features also include water and CO2 firefighting systems, as well as a foam water spray system.
Crowley has a long history of transporting petroleum products and chemicals by tanker and articulated tug barge (ATB). Until 2011, Crowley owned and operated Jones Act product tankers that safely carried petroleum products and chemicals. Crowley has also proven itself an innovator and leader in the industry through the development of an unrivaled ATB fleet, which includes some of the newest and most sophisticated ATBs in the market. As of 2013, Crowley will own and operate 17 ATBs, which include 155,000-barrel, 185,000-barrel and 330,000-barrel capacity tank vessels. Crowley has safely and reliably operated all of these Jones Act tankers and ATBs on the U.S. Gulf, East and West coasts under voyage and time charters with leading companies in the petroleum and chemical industries.
DNB Markets, Inc. acted as exclusive financial advisor to Crowley.
Aker Philadelphia Shipyard is a leading U.S. commercial shipyard constructing vessels for operation in the Jones Act market.  It possesses a state-of-the-art shipbuilding facility and has earned a reputation as the preferred provider of oceangoing merchant vessels with a track record of delivering quality ships.  Aker Philadelphia Shipyard is a member of the Norwegian-based Aker family of global companies, leaders in global growth markets including energy technologies, energy resources, maritime technologies, seafood and marine biotechnology.
Jacksonville-based Crowley Holdings Inc., a holding company of the 120-year-old Crowley Maritime Corporation, is a privately held family and employee-owned company. The company provides project solutions, transportation and logistics services in domestic and international markets by means of six operating lines of business: Puerto Rico/Caribbean Liner Services, Latin America Liner Services, Logistics Services, Petroleum Services, Marine Services and Technical Services. Offered within these operating lines of business are: liner container shipping, logistics, contract towing and transportation; ship assist and escort; energy support; salvage and emergency response through its TITAN Salvage subsidiary; vessel management; vessel construction and naval architecture through its Jensen Maritime subsidiary; government services, and petroleum and chemical transportation, distribution and sales. Additional information about Crowley, its subsidiaries and business units may be found on the Internet at www.crowley.com.
#     #     #