Crowley Puerto Rico Services Expedites Cargo Offloading, Prepares for Hurricane Irma
(SAN JUAN, Puerto Rico; Sept. 5, 2017) Crowley Puerto Rico Services reported today that it accelerated the unloading of cargo, including dry goods, food and refrigerated products, over the weekend in San Juan, Puerto Rico, to help ensure as many goods were available as possible for retailers to stock store shelves in advance of Hurricane Irma.
Now, with storm impact expected within the next 48 hours, Crowley is closing its port facilities, office and warehousing facilities at 2 p.m. EST on today, and will remain closed on Wednesday so employees and their families can prepare for Hurricane Irma.
Crowley has taken steps to secure equipment and facilities at the Isla Grande Terminal in San Juan. Crowley vessels are being moved out of the projected path of the storm.
Anticipating the need for post-storm recovery efforts, Crowley has been in contact with authorities from the federal government and island commonwealth, as well as food and manufacturing industry groups, to discuss plans for resuming cargo transport services as soon as it is safe to do so.
"At Crowley, we make safety our No. 1 core value, and we urge the people in the communities we serve to take the storm seriously by making all necessary safety precautions," said Crowley's Jose "Pache" Ayala, vice president, Puerto Rico services. "We have been taking all appropriate actions to ensure the safety of our vessels and crews – moving them out of harm's way – while we also secure our facilities in Puerto Rico to try to minimize storm damage."
The company's corporate emergency management team was activated last week to monitor the storm and support preparations in locations such as Puerto Rico in advance of the storm, plus the recovery actions after Hurricane Irma concludes.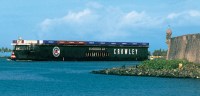 As soon as the storm passes, Crowley's vessels are prepared to support the island as soon as the port and terminal resume operations. In addition, Crowley has been coordinating preparation and recovery needs with agencies associated with the federal government and island commonwealth, such as FEMA, the U.S. Coast Guard and the Puerto Rico Ports Authority, Ayala said.
Crowley, which has about 300 Puerto Rico employees, has served the Puerto Rico market since 1954, longer than any other Jones Act carrier in the trade.
Jacksonville-based Crowley Holdings Inc., a holding company of the 125-year-old Crowley Maritime Corporation, is a privately held family and employee-owned company. The company provides marine solutions, energy and logistics services in domestic and international markets by means of six operating lines of business: Puerto Rico liner services, international liner services, logistics services, petroleum services, marine services and technical services. Offered within these operating lines of business are: liner container shipping, logistics, contract towing and transportation; ship assist and escort; energy support; salvage and emergency response through its 50 percent ownership in Ardent Global; vessel management; vessel construction and naval architecture through its Jensen Maritime subsidiary; government services, and petroleum and chemical transportation, distribution and sales. Additional information about Crowley, its subsidiaries and business units may be found at .