Crowley Provides Career Advancement Scholarship to AVTEC Maritime Academy Student Justin Schoening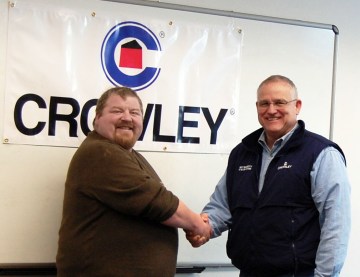 (ANCHORAGE; August 29, 2012) – Crowley Maritime Corporation recently awarded a Thomas B. Crowley Sr. Memorial Scholarship to Alaska's Institute of Technology (AVTEC) student Justin Schoening. This career advancing scholarship will give Schoening the opportunity to participate in the school's Ablebodied Mariner Training Program, which, upon completion, will allow his pursuit of a marine towing career.
Schoening, 36, a Seward, Alaska, native and member of the Qutekcak Native Corporation is no stranger to the maritime industry having already graduated from AVTEC with a U.S. Coast Guard (USCG) 100-ton Master's License. Since 2007, he has successfully owned and operated a charter fishing business with his 340-foot vessel, Just In Time, in Resurrection Bay and the North Gulf of Alaska.
"Seward Fish Company has had the pleasure of sending our charter fishing clients with him [Schoening] time and time again," said Randy Wells, president, Seward Fish Company. "Mr. Schoening has continuously shown us and our clients a level of professionalism that is not seen often within the charter fishing industry."
Captain Dan Butts of AVTEC presented the scholarship to Schoening who graciously thanked Crowley, and also Alyeska Pipeline Service Company for their supplemental Alaska Native Scholarship which will enable him to complete this training.
Crowley created this scholarship program to recognize students who demonstrate the achievement and leadership ability to successfully pursue careers in the towing industry. Awardees must be Alaska Natives, hold valid Merchant Mariner Credentials, hold Transportation Worker Identification Cards (TWIC) and provide sea service letters of discharge to demonstrate that the candidate meets the sea service requirements to qualify for an Ablebodied (AB) rating upon successful completion of the course. While the scholarship does not provide a guarantee for future Crowley sea service, last year's scholarship recipients, ABs Anna Clock and Emmett Anderson, are both currently working aboard Crowley vessels in Valdez, Alaska.
Since 1984, Crowley has provided more than half-a-million dollars in scholarship funding for more than 200 students studying at maritime academies and other select institutions in the U.S., Alaska, Puerto Rico and Central America. In 1994, Crowley Chairman, President and CEO Tom Crowley Jr. established the Thomas B. Crowley Sr. Memorial Scholarship Program, in honor of his father, and has also donated more than $2 million over the years to support other educational programs.
To learn more about the Thomas B. Crowley Sr. Memorial Scholarship program, visit www.crowley.com/scholarships.
Crowley is strongly positioned as a leader in the Alaska fuel industry, providing transportation, distribution and sales of petroleum products to more than 280 communities across Alaska. Crowley supports the energy industry on the North Slope with summer sealifts of large production modules and various marine transportation services. At the southern terminus of the trans-Alaska oil pipeline, Crowley provides tanker escort and docking services in Valdez Harbor and Prince William Sound for Alyeska Pipeline Service Company's Ship Escort/Response Vessel System, utilizing some of the most technologically advanced and powerful tugboats in the world. Crowley also provides tanker assist and escort services at Tesoro Alaska Company's Nikiski refinery in Cook Inlet. To learn more about Crowley in Alaska, visit: www.crowleyalaska.com
To learn more about Crowley Maritime Corporation, the 120-year-old, privately held company providing project solutions, transportation and logistics services around the world, please visit: www.crowley.com.
#     #     #
Caption: Schoening accepts the scholarship from Alex Sweeney, vice president, terminal operations, Anchorage