Crowley Provides AACA Aviation Scholarships for Fifth Consecutive Year
For the fifth consecutive year, Crowley Fuels has funded four Alaska Air Carriers Association (AACA) 2017 Forrest Jones Memorial Scholarships. This year's recipients were revealed during a recent AACA meeting in Anchorage, by Crowley's Don King, senior account executive, aviation. The students – Zelek McNeilly, Levi Michael, Taylor Harvey and Jayden Wilson – will receive scholarships to support their educational pursuits in aviation maintenance, professional piloting or aviation administration.
"Crowley is pleased to continue support for aviation in Alaska, a critical infrastructure in the state," said Bob Cox, vice president. "Alaska has lost around 16 percent of its commercial pilot workforce due to retirement and aviation expansion in Asia. As a result, there is now a serious shortage of qualified pilots and mechanics. The training these students will receive is necessary for the future of aviation in Alaska."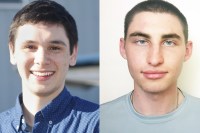 McNeilly, class of 2019, is a University of Alaska Anchorage (UAA) sophomore from Anchorage, who has declared a major of professional piloting, with intentions of pursuing a career as a commercial pilot in Alaska after graduation. He began his flight training at age 14, at Galena Interior Learning Academy, and earned his private pilot certification at age 17. In addition to his four-year degree, McNeilly is also working towards earning an instrument rating qualification and his certified flight instructor (CFI) certificate. He is considering pursuing a certified Flight Instructor – Instrument (CFI) certificate in the future and becoming an airplane maintenance technician.
Michael, from Nikiski, is a University of Alaska Fairbanks (UAF) senior pursuing an aviation technology degree, with plans of starting a career in aviation maintenance. A third-generation pilot, Michael has a goal of first completing his two-year degree, then continuing to earn an associate's degree (to become a commercial pilot) as well as a Federal Aviation Administration (FAA) Airframe and/or Powerplant (A&P) certification.
Harvey, class of 2019, is a UAF sophomore from Unalakleet, with majoring in aviation maintenance with the intent of becoming both a commercial pilot and aircraft mechanic in Alaska. Since age 8, Harvey has been exposed to various aspects of the aviation industry, including flying, loading cargo and more, through his family's affiliations with Hageland Aviation Services in Anchorage. His plans include completing his two-year degree and then attending ATP Flight School, in Las Vegas, Nev., before returning to Alaska to work.
Wilson, class of 2019, is also from Unalakleet.  He is a UAA sophomore pursuing an aviation maintenance degree, with the goal of becoming both a commercial pilot for RAVN airlines and a bush pilot. Exposed to flying at the age of eight when he rode aboard his father's assistant's plane, his plans now include completing his two-year degree while also earning his A&P certification and pilot's license. He intends to return to his hometown to work after graduation.
The AACA established the Forrest Jones Memorial Scholarship in 1999 to honor Forrest Jones, a dedicated aviation maintenance professional and role model who combined innovative thinking and a common-sense approach to everyday problems. Jones made a significant contribution to aviation in the State of Alaska, actively supporting aircraft operations for over 40 years. His maintenance philosophy of "fixing it right, by the book" was combined with a high degree of professionalism and integrity. The Forrest Jones Memorial Scholarship seeks to perpetuate this attitude and commitment to aviation in Alaska.
To be selected for the Forrest Jones Memorial Scholarship, recipients' grades; test scores; leadership, citizenship and community service accomplishments; purpose, ambition, integrity and initiative; passion for aviation; personal essays; and letters of recommendation are considered.