Crowley Presents Scholarships worth $10,000 to Four University of Alaska Fairbanks Students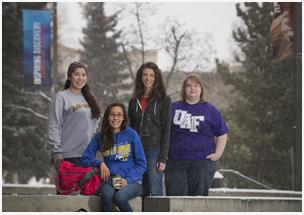 Crowley Maritime Corporation recently awarded four Thomas B. Crowley, Sr., Memorial Scholarships to University of Alaska Fairbanks (UAF) students Alexandra Bateman, Gabrielle Bragg, Diloola Erickson and Kimberly Greenway. These students were chosen for their outstanding academic records and having met other scholarship criteria. They each received $2,500 toward tuition.
Preferences for Crowley-funded UAF scholarships are given to Alaska natives from Crowley-served communities throughout the state, including Anchorage, Kenai, Palmer, Wasilla, Nenana, Fairbanks, Delta Junction, Glennallen, Valdez, Fort Yukon, Galena, St. Mary's, Iliamna, Bethel, Aniak, McGrath, Hooper Bay, St. Michael, Nome, Kotzebue, Juneau, Ketchikan, Naknek, Talkeetna and Prudhoe Bay.
"Strong leadership is essential to preserving traditional values in rural Alaska and creating viable communities. The goal of this scholarship program is to help the next generation get a good education and be ready to lead their communities well into the future," said Crowley's Bob Cox, vice president, petroleum distribution.
Bateman, a native of Kodiak, Alaska, is currently enrolled in the UAF School of Fisheries and Ocean Sciences and working towards a bachelor's degree in fisheries, with a minor in rural development. During her time at Kodiak High School, she was the founding member of the school's Future Farmers of America Chapter and a student representative on the Prince William Sound Regional Citizens Advisory Council. Bateman is entering her fourth year at UAF and plans to pursue employment in her hometown with an agency such as the Alaska Department of Fish and Game or the Kodiak National Wildlife Refuge.
Bragg is double-majoring in biology and fisheries also at the School of Fisheries and Ocean Sciences. She said she gained an interest in working with fish when she saw the movie "Jaws." This past summer, Bragg worked for the Alaska Department of Fish and Game (ADFG), and during her time there she discovered a passion not only for fish, but also the people in the industry. After graduation, Bragg would like to continue working for the ADFG, but in the sport fishing arena, and eventually she would to become a consultant and travel across the state to help the people in the industry make a positive impact on their fisheries.
Erickson, enrolled in UAF's Rural Alaska Honors Institute (RAHI), is currently working on her mechanical engineering degree and has already completed two internships with ExxonMobil in Anchorage, Alaska, and Houston, Texas. Though her studies have focused on the oil and energy industry, Erickson would still like to explore other available engineering options in Alaska. After graduation, she plans on working in state as a mechanical engineer and has a few more internships planned to help her decide in which industry she would like to work.
Greenway, also a student of the RAHI, grew up in Fairbanks and attended high school in Galena, Alaska. After graduating from the Galena Interior Learning Academy, she transitioned to UAF to begin working toward a degree as a medical assistant. Greenway interned at a clinic this past summer and decided that she would pursue higher-level positions in the medical field. She hopes to one day work for the pediatric or neonatal unit at either Fairbanks Memorial or the Alaska Native Medical Center.
Since 1984, Crowley has provided scholarship funding for more than 1,000 students studying at maritime academies and other select institutions in the U.S., Alaska, Puerto Rico and Central America. In 1994, Crowley Chairman, President and CEO, Tom Crowley Jr., established the Thomas B. Crowley Sr. Memorial Scholarship Program, in honor of his father, and has also donated more than $3 million over the years to support other educational programs. In 2006, the program expanded to Central America and to date has provided financial assistance to more approximately 20 students in that region.
To learn more about the Thomas B. Crowley Sr. Memorial Scholarship program, visit www.crowley.com/scholarships.