Crowley Presents Scholarships worth $10,000 to Four University of Alaska Fairbanks Students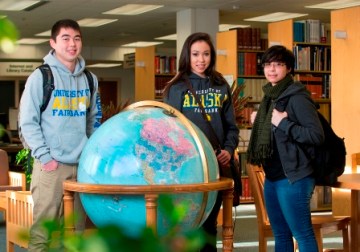 Crowley Maritime Corporation has awarded four Thomas B. Crowley, Sr., Memorial Scholarships to University of Alaska Fairbanks (UAF) students John Oulton, Shamariah Hale, William Kelly and Elizabeth Lindley. These students were chosen for their outstanding academic records and having met other scholarship criteria. They each received $2,500 toward tuition.
Preferences for Crowley-funded UAF scholarships are given to students from rural Alaska from Crowley-served communities throughout the state, including Anchorage, Kenai, Palmer, Wasilla, Nenana, Fairbanks, Delta Junction, Glennallen, Valdez, Fort Yukon, Galena, St. Mary's, Iliamna, Bethel, Aniak, McGrath, Hooper Bay, St. Michael, Nome, Kotzebue, Juneau, Ketchikan, Naknek, Talkeetna and Prudhoe Bay.
"We are proud to contribute to the academic success of these rural Alaskan students," said Crowley's Bob Cox, vice president, petroleum distribution. "These are four bright students who are dedicated to serving their state after graduation."
Oulton was born at Fort Wainwright, Alaska, but spent most of his life in Bethel, Alaska, where his mom is a Yup'ik tribe teacher. As a freshman, he is currently working towards a bachelor's degree in justice, with a minor in rural development. With an appetite for higher education and a desire for all things orderly and right, Oulton looks forward to obtaining his degree, serving his community and making a difference in Alaska in the years ahead.
Hale, who is from Fairbanks and a senior at UAF, is working towards a fisheries degree, with a minor in Alaska Native art.  Her experience in this field of study came through several internships and programs, including the Hutton Fisheries Biology Program, Summer Program for Undergraduate Research and the Alaska Native Science & Engineering Program (ANSEP). She credits a desire to help preserve marine life that for centuries has sustained Native people as her motivation for choosing a natural resource field. After obtaining her degree, Hale plans to apply for a job through the National Oceanic and Atmospheric Association (NOAA) to study Alaska's freshwater and marine fish.
Kelly, a freshman and proud member of the Yup'ik tribe, has lived in both St. Mary's and Hooper Bay, Alaska.  One of eight children, he plans to major in business administration then become a leader within his community and the state of Alaska.
Lindley, also a freshman, was born and raised in Bethel along the Kuskokwim River. After graduating valedictorian of Bethel Regional High School, a summer internship with the Alaska Department of Fish and Game in Nome enhanced her appreciation for the work associated with managing Alaska's fish stock and ultimately drove her towards her studies at UAF in fisheries.
Since 1984, Crowley has provided scholarship funding for more than 1,000 students studying at maritime academies and other select institutions in the U.S., Alaska, Puerto Rico and Central America. In 1994, Crowley Chairman, President and CEO, Tom Crowley Jr., established the Thomas B. Crowley Sr. Memorial Scholarship Program, in honor of his father, and has also donated more than $3 million over the years to support other educational programs. In 2006, the program expanded to Central America and to date has provided financial assistance to more approximately 20 students in that region.
To learn more about the Thomas B. Crowley Sr. Memorial Scholarship program, visit www.crowley.com/scholarships.
Crowley in Alaska
Crowley, which has been serving Alaska for more than 60 years, currently operates 22 fuel terminals in western Alaska and the rail belt, with over 265 employees. The company continues to position itself as a leader in the Alaska fuel industry, providing transportation, distribution and sales of petroleum products to more than 280 communities across Alaska. Crowley also supports the energy industry on the North Slope with summer sealifts of large production modules and various marine transportation services. At the southern terminus of the trans-Alaska oil pipeline, Crowley provides tanker escort and docking services in Valdez Harbor and Prince William Sound for Alyeska Pipeline Service Company's Ship Escort/Response Vessel System, utilizing some of the most technologically advanced and powerful tugboats in the world.
To learn more about Crowley's petroleum distribution operations in Alaska, please visit: www.crowleyfuels.com.
#     #     #
 
To download a high-resolution copy of the photo for reproduction, click here.
The photo will open in your browser; right-click on the photo and select "Save As" to download.
Caption: Crowley scholarship recipients (left to right) John Oulton, Elizabeth Lindley and Shamariah Hale. Not pictured: William Kelly