Crowley Presents Scholarships to Two United States Merchant Marine Academy Cadets at the Connie Awards Luncheon in New Jersey
(NEWARK, N.J.; December 10, 2013) ­– Crowley Maritime Corporation awarded two Thomas B. Crowley Sr. Memorial scholarships to United States Merchant Marine Academy (USMMA) cadets Christopher Anthony and Thomas Treat during the 2013 Containerization and Intermodal Institute's Connie Awards luncheon in Newark, N.J yesterday. Both recipients were selected for their strong academic records, leadership capacity and financial need. Crowley's Jonathan Christian, marine personnel supervisor, was in attendance and presented the scholarships to the students during the event.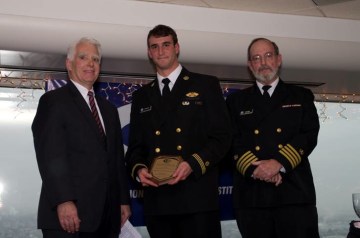 Anthony, a native of Memphis, Tenn., and captain of the varsity lacrosse team, is a marine operations and technology major at USMMA. He is a midshipman officer within USSMA's emergency medical squad (EMS) and a volunteer emergency medical technician (EMT) at the Great Neck Vigilant Fire Department. During his second sailing period, Anthony was the first cadet to sail aboard Crowley's new Veteran Class tanker M/T Pennsylvania. His interests lie within the shipping industry, specifically heavy-lift, breakbulk and tankers.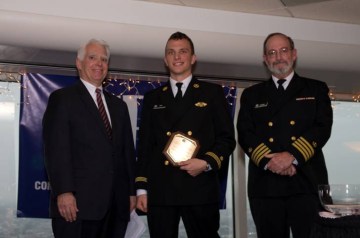 Treat is a marine engineering systems major at USMMA with a concentration in nuclear engineering. From Tyrone, Ga., he is captain of the men's handball team, company commander and has served as class president. During his second sailing period, Treat spent time aboard the Crowley-operated M/T Sunshine State transporting liquid cargo from Pascagoula, Miss., to Tampa, Fla. During this time, his interest in the oil industry grew. As a result, he plans to pursue a career aboard drill platforms after graduation.
These latest scholarship awards come just two months after Crowley awarded three California Maritime Academy cadets with scholarships during the Connie Awards West Coast ceremony, in Long Beach, Calif.
Scholarships are part of Crowley's lengthy and ongoing commitment to education. Over the years, Crowley Chairman, President and CEO Tom Crowley Jr. has directed the company to present scholarship dollars to deserving students at the maritime academies and other select institutions in the United States, Caribbean and Central America in the name of his father Thomas B. Crowley Sr., who guided the company to extraordinary heights before passing away in 1994.
Since 1984, Crowley has provided more than $3 million dollars in scholarship funding for more than 1,000 students. In 2006, the program expanded to Central America and, to date, has provided financial assistance to more 20 students in that region.
The USMMA is a federal service academy that educates and graduates licensed merchant marine officers who serve America's marine transportation and defense needs. The academy is known for its rigorous program, requiring more credit hours for a baccalaureate degree than any other federal academy. More information on the USMMA can be found online at http://www.usmma.edu/.  
Jacksonville-based Crowley Holdings Inc., a holding company of the 121-year-old Crowley Maritime Corporation, is a privately held family and employee-owned company. The company provides project solutions, transportation and logistics services in domestic and international markets by means of six operating lines of business: Puerto Rico/Caribbean Liner Services, Latin America Liner Services, Logistics Services, Petroleum Services, Marine Services and Technical Services. Offered within these operating lines of business are: liner container shipping, logistics, contract towing and transportation; ship assist and escort; energy support; salvage and emergency response through its TITAN Salvage subsidiary; vessel management; vessel construction and naval architecture through its Jensen Maritime subsidiary; government services, and petroleum and chemical transportation, distribution and sales. Additional information about Crowley, its subsidiaries and business units may be found on the Internet at www.crowley.com.