Crowley Presents $10,000 in Scholarships to Two Webb Institute Students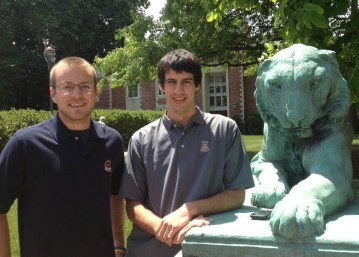 (GLEN COVE, NY; December 2, 2013) – Crowley Maritime Corporation recently awarded two Thomas B. Crowley, Sr. Memorial scholarships to a pair of exceptional students from Webb Institute, a four-year college specializing in naval architecture and marine engineering. Both recipients, juniors Matt Weklar and Nolan Conway, were selected for their remarkable leadership qualities, academic excellence and an unprecedented commitment to the maritime industry.
"We are extremely proud of our relationship with Crowley Maritime Corporation," said R. Keith Michel, president of Webb Institute. "The Thomas B. Crowley Memorial Scholarship Program is a testament to Crowley's commitment to higher education and Webb Institute is honored to be part of this prestigious program. Through this scholarship program, deserving students that may not have been able to afford a higher education are given the opportunity to fulfill their potential."
Prior to enrolling at Webb, Conway served as president of his high school's robotics team and volunteered with Maya Pedal, an organization that brings pedal-powered machinery to rural Guatemala. Today, he is Webb's class of 2015 president, the student body's education committee chair and the board of trustee's student representative.
Weklar, who has been sailing since he was eight, has worked aboard several sailing yachts and has competed in numerous regattas around New England. He maintains a 90 GPA (out of 100) at Webb, serves as the Society of Naval Architects and Marine Engineers (SNAME) Student Section Chairman, student body vice president, and is captain of the school's basketball team. He is also one of the project leads for SAILBOT, an annual autonomous sailing competition that Webb is competing in for the first time.
Crowley scholarships are part of Crowley's lengthy and ongoing commitment to education. Over the years, Crowley Chairman, President and CEO, Tom Crowley Jr., has directed the company to present scholarship dollars to deserving students at the maritime academies and other select institutions in the United States, Caribbean and Central America in the name of his father Thomas B. Crowley Sr., who guided the company to extraordinary heights before passing away in 1994.
Since 1984, Crowley has provided more than $3 million dollars in scholarship funding for more than 1,000 students. In 2006, the program expanded to Central America and to date has provided financial assistance to more 20 students in that region.
Webb Institute is a top-ranked undergraduate engineering institution offering one academic option, a double major in Naval Architecture and Marine Engineering. All admitted students receive a full-tuition scholarship.  William H. Webb, the preeminent American shipbuilder of the 19th century, founded the college in 1889. It is located on the grounds of the former Herbert L. Pratt estate, "The Braes," in Glen Cove, NY, on the Long Island Sound. More information may be found online at www.webb-institute.edu.
Jacksonville-based Crowley Holdings Inc., a holding company of the 121-year-old Crowley Maritime Corporation, is a privately held family and employee-owned company. The company provides project solutions, transportation and logistics services in domestic and international markets by means of six operating lines of business: Puerto Rico/Caribbean Liner Services, Latin America Liner Services, Logistics Services, Petroleum Services, Marine Services and Technical Services. Offered within these operating lines of business are: liner container shipping, logistics, contract towing and transportation; ship assist and escort; energy support; salvage and emergency response through its TITAN Salvage subsidiary; vessel management; vessel construction and naval architecture through its Jensen Maritime subsidiary; government services, and petroleum and chemical transportation, distribution and sales. Additional information about Crowley, its subsidiaries and business units may be found on the Internet at www.crowley.com.
#     #     #