Crowley Partners with GTI Collaborative for LNG Training at JaxPort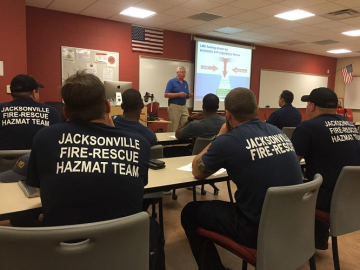 Crowley Maritime Corporation recently participated as one of several Gas Technology Institute (GTI) funding collaborators to bring liquefied natural gas (LNG) awareness training to 150 stakeholders and first responders in Jacksonville. GTI, in conjunction with the Florida State College at Jacksonville Fire Academy of the South (FAS), developed the first-of-its-kind training specifically for Port of Jacksonville area stakeholders including Jacksonville Fire and Rescue Departments, U.S. Coast Guard Sector Jacksonville and area law enforcement.
The Jacksonville Marine Transportation Exchange (JMTX) – the maritime trade organization that coordinates the safe, secure and environmentally responsible management of the marine transportation system within the Port of Jacksonville – worked closely with U.S. Coast Guard Sector Jacksonville to seek out potential members of the funding collaborative and garner support from representatives of the local Area Contingency Planning (ACP) community. Since Crowley currently supplies LNG to Puerto Rico via barge and will take delivery of two container – Roll-On/Roll-Off (ConRo) ships in 2017, the company was proactive in participating in this training endeavor.
"As a company, we take safety very seriously," said Cole Cosgrove, vice president. "As we and other companies in the Jacksonville area continue to embrace the LNG market, it's of utmost importance that we work with our local community to make sure we are all educated in safe handling of this new, environmentally beneficial marine fuel. This training was a first step to ensure all stakeholders have a unified approach to emergency response and clean-up should we ever experience an incident."
Training attendees were introduced to the basic characteristics and properties of LNG, its usefulness as a fuel, its hazards and safety precautions to take when working around the product. The group also learned basic and advanced firefighting techniques including identification of ignition sources, and what types of extinguishing agents exist and when to use them in varying situations. Upon completion, attendees satisfied basic LNG awareness as defined by the U.S. Coast Guard's Standards of Training, Certification, and Watchkeeping (STCW).
"The goal of this training is to keep the excellent safety record maintained by the marine transport of LNG in the past and apply it to the safe bunkering process as we fuel new LNG fueled vessels into the future," said Mark Marien, Crowley's manager, regulatory training.
LNG facts from the Center for Liquefied Natural Gas (CLNG)
LNG, or liquefied natural gas, is natural gas that is cooled to -260° Fahrenheit until it becomes a liquid and then stored at essentially atmospheric pressure. Converting natural gas to LNG, a process that reduces its volume by about 600 times allows it to be stored and transported efficiently. LNG is then warmed back into its original gaseous state so that it can be used just like existing natural gas supplies. When returned to its gaseous state, LNG is used across the residential, commercial and industrial sectors for purposes as diverse as heating and cooling homes, cooking, generating electricity and manufacturing paper, metal, glass and other materials. LNG is not stored under pressure and it is not explosive. LNG vapors (methane) mixed with air are not explosive in an unconfined environment. When exposed to the environment, LNG rapidly evaporates, leaving no residue on water or soil. 
About Florida State College at Jacksonville Fire Academy of the South (FAS)
FAS provides training and educational opportunities to emergency responders in the public and private sectors. FAS offers the most progressive training for the maritime sector, and their facilities include an aircraft rescue and marine firefighting simulator. In 2016, FAS will construct an LNG firefighting facility, the third of its kind in the nation, at its location, sponsored by members of the LNG collaborative including Crowley.
About Gas Technology Institute (GTI)
GTI is the leading research, development, and training organization serving the natural gas and energy industry. For nearly 75 years, GTI has been meeting the nation's energy and environmental challenges by developing technology-based solutions for consumers, industry, and government.
About Crowley
To learn more about Jacksonville-based Crowley Holdings Inc., the holding company of 123-year-old Crowley Maritime Corporation, which provides marine solutions, energy and logistics services in domestic and international markets by means of six diverse operating lines of business visit www.crowley.com.