Crowley Opens Two New Warehousing/Distribution Centers in Jacksonville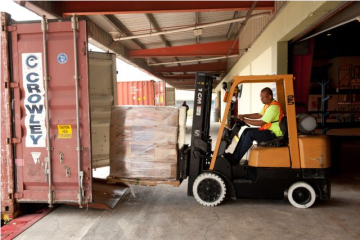 (JACKSONVILLE, Fla.; Sept. 17, 2015) ­– Crowley Maritime Corp.'s logistics group is opening two new warehouses in Jacksonville, Fla., to better serve the needs of its full and less-than-container load customers shipping cargo through, or within the northeast Florida area. 
The first of the two facilities opened Tuesday and is located at 1350 Tradeport Drive, on the city's northside near Jacksonville International Airport. It replaces the company's former 3700 Port Jacksonville Parkway location, and offers customers increased capacity and yard space along with 12 dock-high doors for faster cargo handling. The 49,702-square foot facility will operate Monday through Friday from 8:00 a.m. to 5:00 p.m. and offers various warehousing and distribution-focused services including cargo receiving and segregation, labeling, packing and crating, pick and pack/kitting, storage, inventory management, retail schedule deliveries and HazMat handling.
"Crowley's warehousing and distribution business has continued to grow," said Ayesha Diaz, general manager, logistics. "Both of these warehouse moves are part of a larger strategy to improve the customer experience while aligning our operational and customer needs."
On Oct. 1, customers with less-than-containerload and cross-docking service needs should reroute cargo to a new, secondary location at 2061 SCL Drive, near I-95 and the 20th Street Expressway (Martin Luther King Jr. Parkway).  This 45,580-square foot bonded facility will operate Monday through Friday from 8:00 a.m. to 4:00 p.m.  With 31,500 square feet available for cross-docking, 58 dock high doors and more than 150 container yard spots, customers can utilize the warehouse and Crowley's logistics personnel for a myriad of services, including cargo segregation, P.O. management, cargo tracking, transfers, freight forwarding, cargo insurance, consolidation and deconsolidation, less than trailer load and HazMat handling.
"The cross-dock business has also been growing dramatically in the past year," explained Diaz. "Therefore, it is very important for us to have enough yard space to allocate for the equipment and to have multiple doors that allow us to turn the equipment faster. With this new facility we will be able to accomplish this while also managing additional volume."
Crowley Maritime Corporation, founded in 1892, is a privately held family and employee-owned company that provides marine solutions, energy and logistics services in domestic and international markets by means of six operating lines of business: Puerto Rico Liner Services, Caribbean and Latin America Liner Services, Logistics Services, Petroleum Services, Marine Services and Technical Services. Offered within these lines of business are: liner container shipping, logistics, contract towing and transportation; ship assist and escort; energy support; salvage and emergency response through its 50 percent ownership in Ardent Global; vessel management; vessel construction and naval architecture through its Jensen Maritime subsidiary; government services, and petroleum and chemical transportation, distribution and sales. Additional information about Crowley, its subsidiaries and business units may be found on the Internet at www.crowley.com.