Crowley Nearly Doubles Size of Puerto Rico Distribution Center to Better Serve Customers Shipping to and from U.S. Mainland and Caribbean
Investment Represents Company's Continued Commitment to Puerto Rico and the Surrounding Caribbean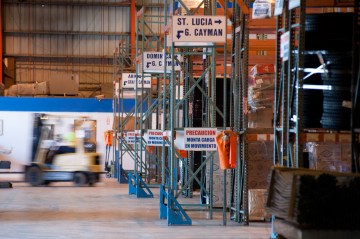 (Guaynabo, Puerto Rico; May 29, 2012) – Crowley Maritime Corporation's Caribbean logistics unit has nearly doubled the size of its distribution center in Puerto Rico with the acquisition of a second warehouse adjacent to the company's existing 70,000 square-foot distribution center in Guaynabo, Puerto Rico. The expansion brings Crowley's total warehouse space on the island to 119,800 square feet.
"Crowley is one of the very few companies offering such highly integrated services from one facility," said Steve Collar, Crowley's senior vice president and general manager, logistics. "With the larger facilities we can increase our cargo intake and better accommodate our retail customers on the island. We can handle any sized shipment, provide warehousing and deliver it to the customer's door when it is needed. This helps customers be more efficient and cost effective."
In addition to improving Crowley's warehousing capabilities, the expansion also enhances the company's ability to provide a wider suite of total shipping and logistics services to customers on the island and also to those who ship between Puerto Rico, the U.S. mainland and the Eastern and Western Caribbean. Crowley currently offers liner shipping to Puerto Rico from Jacksonville, Fla., Pennsauken, NJ, and more than 20 Caribbean islands – making the company one of the only providers to offer such comprehensive connections and services.
"The additional warehouse space serves as a centralized routing center for both large and small cargo moving between the U.S. and Puerto Rico, the Caribbean, Central America and beyond," Collar said. "Combined with our shipping routes, customers can now count on us for all of their shipping and logistics needs in the region."
Crowley is also investing in its fleet of equipment and in an online cargo management system that will provide customers in Puerto Rico with complete supply chain visibility. The new web-based management system will provide customers with real-time tracking and receiving information, product allocations, order processing, inventory control and delivery confirmations.
"The total investment that Crowley is making on the island continues to demonstrate our commitment to the people and businesses of Puerto Rico and the Caribbean," said Tom Crowley, chairman, president and CEO. "The need for these services is evident, and we are pleased to be able to respond to customer demand in this way. It is just one more way that we can continue to add value in this region."
With a single phone call to Crowley's newly expanded Puerto Rico distribution center, customers can now arrange for complete shipping and logistics services – including liner shipping from Jacksonville, Fla., Pennsauken, NJ, and 24 islands in the Caribbean; door and scheduled deliveries; air freight; export and import consolidations; cargo insurance; warehousing and inventory management; customs brokerage; freight forwarding; Hacienda tax clearance; intra-island trucking (less-than and full-container loads); cross docking; cargo segregation; container loading; pick & pack; packing and crating; labeling, and scanning services to facilitate cargo tracking.
Customers in need of these services should contact 1-800-CROWLEY (press 1) or 1-787-793-8575.
Jacksonville-based Crowley Holdings Inc., a holding company of the 120-year-old Crowley Maritime Corporation, is a privately held family and employee-owned company. The company provides project solutions, transportation and logistics services in domestic and international markets by means of six operating lines of business: Puerto Rico/Caribbean Liner Services, Latin America Liner Services, Logistics Services, Petroleum Services, Marine Services and Technical Services. Offered within these operating lines of business are: liner container shipping, logistics, contract towing and transportation; ship assist and escort; energy support; salvage and emergency response through its TITAN Salvage subsidiary; vessel management; vessel construction and naval architecture through its Jensen Maritime subsidiary; government services, and petroleum and chemical transportation, distribution and sales. Additional information about Crowley, its subsidiaries and business units may be found on the Internet at www.crowley.com.
#     #     #