Crowley Named 2013 Health, Safety, Security & Environment Wholesaler of the Year by Shell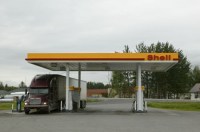 Crowley Maritime Corporation's petroleum distribution group in Alaska has been recognized by Shell Oil Products U.S. as the 2013 Health, Safety, Security & Environment (HSSE) wholesaler of the year. The award is presented as part of the international energy company's celebration of their YOU Make the Difference Real program, which recognized top wholesalers for their "efforts in delivering the Shell brand promise at every site, every visit, and every day!"
As Shell's sole wholesale distributor in Alaska, Crowley faces unique challenges including remote locations, harsh environments, a diverse product and customer base, limited supply options and large fluctuations in seasonal demand. The company currently services 17 Shell-branded retail stations, three of which are owned and operated by Crowley.
"We are humbled and grateful for the recognition from our fuel supplier and branded retailer," said Bob Cox, vice president, petroleum distribution, Alaska. "Safely delivering product to Shell retailers across 475 miles of Alaskan highway network requires the support of Crowley's entire organization – from dispatchers to mechanics to drivers – all personnel are focused on safe, efficient operations."
This recognition of Crowley's quality performance comes on the heels of another award in which the company was named Alaska Trucking Association's "Safe Fleet of the Year" in 2013 and received the organization's "Most Improved Fleet of the Year" – having driven 125 trucks, 1.8 million miles while delivering 100 million gallons of fuel with zero reportable accidents. Additionally, a dramatic improvement in Crowley's Federal Motor Carrier Assessment (CSA) scores can be noted over the past couple years as a result of major equipment upgrades, improved relationships with suppliers and industry leaders, updated policies and improved driver training programs, right staffing of critical HSSE and support roles, revised maintenance programs, improved record keeping and compliance activities, and driver support of critical safety related initiatives.
Crowley continues to position itself as a leader in the Alaska fuel industry, providing transportation, distribution and sales of petroleum products to more than 280 communities across Alaska. Crowley supports the energy industry on the North Slope with summer sealifts of large production modules and various marine transportation services. At the southern terminus of the trans-Alaska oil pipeline, Crowley provides tanker escort and docking services in Valdez Harbor and Prince William Sound for Alyeska Pipeline Service Company's Ship Escort/Response Vessel System, utilizing some of the most technologically advanced and powerful tugboats in the world. To learn more about Crowley in Alaska, visit: www.crowleyalaska.com.
To learn more about Crowley Maritime Corporation, the 122-year-old, privately held company providing project solutions, transportation and logistics services around the world, please visit: www.crowley.com.
#     #     #