Crowley Maritime Named One of the "Healthiest Companies in America"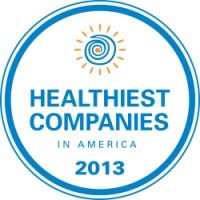 Crowley Maritime Corporation announced today that it's been named one of the "Healthiest Companies in America" by Interactive Health, a leading provider of outcomes-based health management solutions. Out of an eligible 1,400 groups, Crowley was one of 68 honorees from across the United States recognized for their efforts to prioritize employee wellness and create an ongoing culture of health. This is the first year Crowley has won the award.
The "Healthiest Companies in America" award is given to organizations across the nation that achieved a company-wide low health risk status while sustaining high employee participation in their wellness programs. The selection process analyzes biometric screening results to choose winning organizations that demonstrated improved overall employee health across the following key health indicators: glucose, blood pressure, cholesterol, and tobacco usage.
Crowley's wellness program, calledLive Well – For Today and Tomorrow, offers tools, resources and benefits to keep employees and their families healthy. Crowley continually develops and communicates its wellness culture through initiatives such as annual health evaluations, monthlyLive Wellnewsletters, health interest groups and webinars, online health challenges, gym and weight loss reimbursement programs, healthier on-site food options, support for employee wellness activities and more.
 "TheLive Wellgoal is to promote the health and wellness of our people by creating a work environment that nurtures all dimensions of wellness while heightening engagement, reinforcing healthy behaviors, increasing performance and controlling health care expenditures," said Crowley's Katy Keene, manager of employee programs.
"It takes courage and commitment to develop a strategic approach to wellness which is what each of our winners demonstrated in 2013. We are proud to honor them with the 'Healthiest Companies in America' award," said Joseph A. O'Brien, Interactive Health president and CEO. "Every one of these organizations has created a culture of health which goes beyond simply helping at-risk employees improve their health. These organizations have found creative ways to make achieving individual and corporate wellness goals fun. Programs include raffle prizes for competing in team exercise and nutrition challenges, discounts for healthy cafeteria food options and themed health fairs. We are thrilled to acknowledge companies committed to creating a culture of health."
Jacksonville-based Crowley Holdings Inc., a holding company of the 121-year-old Crowley Maritime Corporation, is a privately held family and employee-owned company. The company provides project solutions, transportation and logistics services in domestic and international markets by means of six operating lines of business: Puerto Rico/Caribbean Liner Services, Latin America Liner Services, Logistics Services, Petroleum Services, Marine Services and Technical Services. Offered within these operating lines of business are: liner container shipping, logistics, contract towing and transportation; ship assist and escort; energy support; salvage and emergency response through its TITAN Salvage subsidiary; vessel management; vessel construction and naval architecture through its Jensen Maritime subsidiary; government services, and petroleum and chemical transportation, distribution and sales. Additional information about Crowley, its subsidiaries and business units may be found on the Internet at www.crowley.com.