Crowley-Managed USNS Impeccable Rescues 11 Fishermen from Sinking Vessel in South China Sea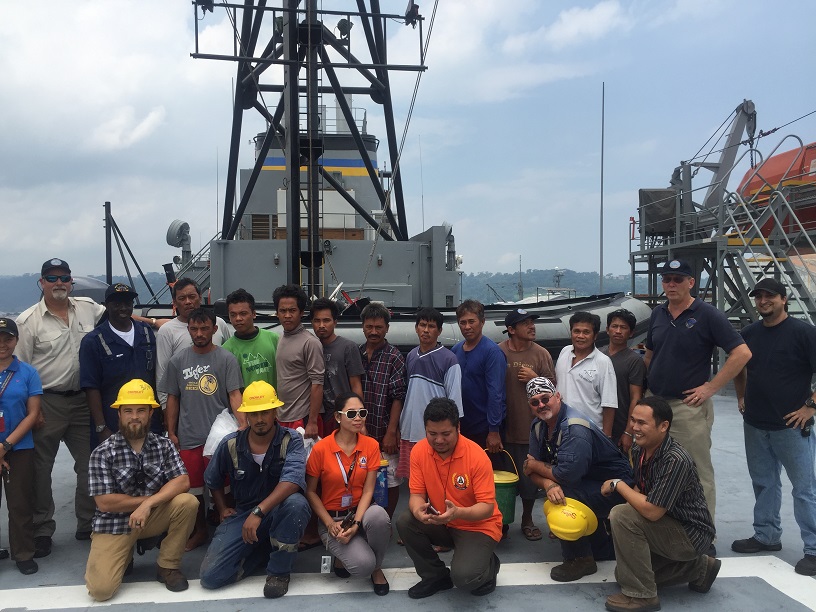 (JACKSONVILLE, Fla.; Aug. 11, 2015) ­– The Crowley-managed, USNS Impeccable (T-AGOS 23) ­– a Military Sealift Command (MSC) Impeccable class, ocean surveillance ship ­– heroically rescued 11 fishermen struggling to stay afloat on a sinking vessel that had been adrift for five days in the South China Sea. While enroute to Subic Bay, Philippines, on July 19, Impeccable's on-watch lookout spotted lights, and debris floating in the water and numerous distressed mariners waving from atop the wheelhouse of a nearly submerged ship located approximately 100 nautical miles northwest of Cape Bolinao, Philippines. 
Impeccable's master, Capt. Robert Wiechert, maneuvered the vessel quickly towards the stricken craft, and assessed that immediate assistance was required in order to save the lives of the stranded mariners. He promptly gave the order to deploy Impeccable's Rigid Hull Inflatable Boat (RHIB) / Fast Rescue Boat to save the sailors from the sinking vessel.
The RHIB, manned by Chief Mate Wayne Robinson and Able Bodied Seaman Clifford Blackmon, made three trips to the sinking vessel and successfully rescued all 11 distressed mariners, four at a time.  Within minutes of the final rescue trip, the derelict vessel completely sunk.
Once the mariners were safely aboard Impeccable, each was examined and treated for non-life threatening injuries by the ship's medical department representative. They were also given the opportunity to take showers and were offered clean clothes, food and water for the one-day transit to port, where they were transferred ashore to the Philippine Coast Guard.
"This was a true team effort … [with] civilian mariners, security detachment, military detachment and SURTASS (Surveillance Towed Array Sensor System) operations center personnel working together to achieve an efficient rescue of all 11 fishermen. This was a prime example of team work between Crowley and military personnel working towards a common goal," said Capt. Wiechert.
"Bravo Zulu (well done) to Captain Robert Weichert and the crew of USNS Impeccable for your superb performance in recovering 11 fishermen from a sinking vessel," said Capt. Paul Harvey, USN commodore, Military Sealift Command Far East. "Your officers' and crew's professional actions assuredly saved their lives. The events conducted at sea displayed a superb performance of seamanship; especially noteworthy was the flawless coordination between the ship's crew and [the] embarked security team."
"The officers and crew of the Impeccable are fully trained and prepared to respond to a variety of marine incidents," said Mike Golonka, vice president, Crowley government services. "In addition to meeting defined regulatory training requirements, crewmembers participate annually in company-sponsored safety programs, designed exclusively for mariners. The safety program provides training in survival tactics, shipboard firefighting, medical incidents and other relevant topics designed to give mariners the skills they need to survive in emergency situations such as this."
Crowley, founded 1892, is one of the oldest ship-owning and managing companies in the U.S., providing marine solutions, energy and logistics services in the domestic and international markets. As a third-party ship management company, Crowley provides technical services and crew management as well as a broad range of back-office services. With offices in the U.S., Mumbai, Goa, Hong Kong and Amsterdam, Crowley's international ship management group, including Crowley Accord, manages over 70 vessels of nearly every type and variety. The company shows a strong focus on value-added management models and safe, operational efficiency. To learn more about Crowley, visit www.crowley.com.
#     #     #