Crowley Liner Services among First Private Companies to Earn U.S. AQUA Lane Certification from Customs and Border Patrol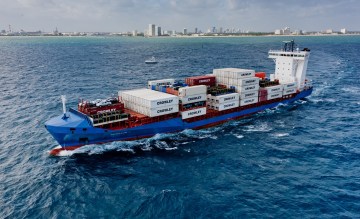 Crowley Liner Services recently became one of the first private companies in the nation to be certified and validated by U.S. Customs and Border Protection (CBP) as part of its new Marine Port Terminal Operator (MPTO) designation, known as the AQUA Lane program. Following on-site inspections and vetting of its Port Everglades terminal, Crowley was found fully compliant with all program requirements and was even recognized for having implemented additional best practices, including enhanced due diligence security standards. Port Everglades itself was one of only four ports nationwide to test the roll out of the MPTO program.
AQUA Lane program certification gives Crowley, a "fast lane" for cargo operations.  This means that Crowley can apply for Advanced Qualified Unlading Approval to allow an incoming vessel and its cargo to be pre-cleared by CBP 12 hours prior to the ship's estimated arrival, instead of having to wait for a CBP officer to board and clear the ship. The company can now begin cargo discharge and load back upon docking in Port Everglades, reducing wait times by terminal personnel between vessel docking and operations commencement. It also increases the speed of port turn times and expedites cargo movement.
As part of this certification, Crowley's Port Everglades terminal now has its own Custom-Trade Partnership against Terrorism (C-TPAT) Program certificate and joins other company divisions – Crowley Latin America Services, Crowley Logistics and Customized Brokers – as fully certified and validated C-TPAT program members.
"As an industry leader, Crowley recognizes the importance of government-industry partnerships like this one to deter terrorism as well as protect our employees, operations, equipment and customers' cargoes," said Crowley's Ed Alford, director, security in Port Everglades. "We have dedicated our focus and commitment in these areas to ensure the absolute integrity and overall efficiency of our part in the global trade supply chain process for years. We are glad to see that dedication paying off in reduced cargo turn times for our customers." 
Crowley also participates in other customs industry programs, such as the Super Carrier Initiative Agreement (SCIA) program, which deters and protects cargo and vessels from contraband, narcotics and stowaways and supports the Business Anti-Smuggling Coalition program (BASC) in its areas of operation. BASC is a sister program for foreign shippers and consignees that do not have headquarters in the U.S.   
Jacksonville-based Crowley Holdings Inc., a holding company of the 124-year-old Crowley Maritime Corporation, is a privately held family and employee-owned company. The company provides marine solutions, energy and logistics services in domestic and international markets through six operating lines of business: Puerto Rico Liner Services, International Liner Services, Logistics Services, Petroleum Services, Alaska Petroleum Distribution and Marine Services, and Technical Services. Offered within these operating lines of business are: liner container shipping, logistics, contract towing and transportation; ship assist and escort; energy support; salvage and emergency response through its 50 percent ownership in Ardent Global; vessel management; vessel construction and naval architecture through its Jensen Maritime subsidiary; government services, and petroleum and chemical transportation, distribution and sales. Additional information about Crowley, its subsidiaries and business units may be found at.