Crowley Launches First HealthSpot® Telemedicine Station in Northeast Florida for Employees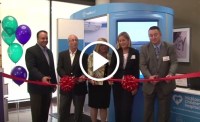 Crowley Maritime Corp., in partnership with UnitedHealthcare and Nicklaus Children's Hospital, recently unveiled a new HealthSpot® walk-in telemedicine station to provide employees with convenient access to healthcare. The station is the first its kind in Northeast Florida.
Watch a video of the ribbon cutting and event here.
The HealthSpot® station, located at Crowley's corporate headquarters in Jacksonville, offers real-time, convenient and cost-effective video visits with board-certified clinicians from Nicklaus Children's Hospital, part of Miami Children's Health System. 
Appointments are available for adults and children age two and older to seek treatment as well as prescriptions for minor common conditions such as sinus and respiratory infections, fever, cold, ear and eye pain, skin conditions and allergies.
The private, eight-foot-by-seven-foot enclosure has two-way, high-definition video screens and features digital medical devices, including a stethoscope, scale, blood pressure cuff, pulse oximeter and thermometer that stream medical information from the patient to the care provider. A Nicklaus Children's attendant is on site to help patients with appointments and technical assistance.
Watch one employee's video testimonial after using the kiosk here.
"Crowley is truly excited to be able to offer such an innovative health and wellness benefit that will tangibly contribute to employee health," said Crowley's Bryan Lee, vice president, human resources. "Our company's Live Well goal is to promote the well-being of our people by creating a work environment that nurtures all dimensions of wellness, including physical health. This is just one more way that we're working to keep the Crowley population healthy."
During the grand-opening event, employees had the opportunity to learn about how telemedicine offers more choices to obtain care for themselves and their families. Live demonstrations of the station allowed employees to test the equipment and experience an interactive visit with a Nicklaus Children's Hospital care provider.
"Telemedicine will play a key role in meeting consumers' health and wellness needs in the future, led by companies such as Crowley taking the initiative to provide their employees with greater access to quality, cost-effective care," said David Lewis, president and CEO, UnitedHealthcare of North Florida.
"Our telehealth program is designed to offer children and families access to quality healthcare wherever they are, whenever they need it," says Dr. Narendra Kini, CEO, Miami Children's Health System. "It is our hope that this unique service will be a valued convenience to employees of Crowley."
Statistics published by the American Telemedicine Association show that more than 10 million consumers used telemedicine last year. The number is expected to grow: a recent Harris Poll survey found that 27 percent of consumers would choose telemedicine visits if the option was available to them.
UnitedHealthcare has provided medical coverage for Crowley employees since 1996.
About Crowley Maritime Corp.
Jacksonville-based Crowley Holdings Inc., a holding company of the 123-year-old Crowley Maritime Corporation, is a privately held family and employee-owned company. The company provides marine solutions, energy and logistics services in domestic and international markets by means of six operating lines of business: Puerto Rico Liner Services, Caribbean and Latin America Liner Services, Logistics Services, Petroleum Services, Marine Services and Technical Services. Offered within these operating lines of business are: liner container shipping, logistics, contract towing and transportation; ship assist and tanker escort; energy support; salvage and emergency response through its 50 percent ownership in Ardent Global; vessel management; vessel construction and naval architecture through its Jensen Maritime subsidiary; government services, and petroleum and chemical transportation, distribution and sales. Additional information about Crowley, its subsidiaries and business units may be found on the Internet at www.crowley.com.
About Nicklaus Children's Hospital 
Founded in 1950 by Variety Clubs International, Nicklaus Children's Hospital – part of Miami Children's Health System – is South Florida's only licensed specialty hospital exclusively for children, with more than 650 attending physicians and over 130 pediatric sub-specialists. The 289-bed hospital is renowned for excellence in all aspects of pediatric medicine with several specialty programs ranked among the best in the nation in 2008, 2009, 2010, 2011, 2012, 2013, 2014 and 2015-16, by U.S. News & World Report. The hospital is also home to the largest pediatric teaching program in the Southeastern United States and has been designated an American Nurses Credentialing Center (ANCC) Magnet facility, the nursing profession's most prestigious institutional honor. For more information, please visit www.nicklauschildrens.org.
About UnitedHealthcare
UnitedHealthcare is dedicated to helping people nationwide live healthier lives by simplifying the health care experience, meeting consumer health and wellness needs, and sustaining trusted relationships with care providers. The company offers the full spectrum of health benefit programs for individuals, employers, military service members, retirees and their families, and Medicare and Medicaid beneficiaries, and contracts directly with more than 850,000 physicians and care professionals, and 6,000 hospitals and other care facilities nationwide. UnitedHealthcare is one of the businesses of UnitedHealth Group (NYSE: UNH), a diversified Fortune 50 health and well-being company. For more information, visit UnitedHealthcare at www.uhc.com or follow @myUHC on Twitter.
About HealthSpot®
HealthSpot® is healthcare, reimagined. A pioneer in connected care, HealthSpot has built a comprehensive healthcare delivery platform that combines cloud-based software with the award-winning HealthSpot station, digital medical devices and mobile applications. HealthSpot's platform radically transforms today's healthcare system by enabling the delivery of quality, affordable medical care through a diverse professional care network for patients in efficient, convenient locations like pharmacies, hospitals, clinics, employer and community sites, universities and the home. For more information on HealthSpot, go to www.healthspot.net.