Crowley Joins Elite Group of U.S. Employers with New Parental Leave Benefits for Mothers, Fathers and Committed Partners
Facing medical needs with a newborn boy this spring, Crowley Maritime Corp. employee and father Ezra Clark is taking advantage of a new benefit for employees that is uncommon in American business: 12 weeks of fully paid parental leave.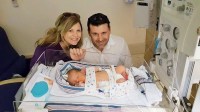 "It really means a lot that the company supports me and other employees as new parents. It keeps our family life more stable. I can be there for the important medical events and treatments for our son, Kingston, and know we have the time together, full benefits and the resources that we need during this period," said Clark, 38, a business analyst in information technology. "It was very simple to work with our company to plan for the leave time that I need to spend with my son and wife."
Crowley has begun offering 12 weeks of full pay and benefits to full-time, U.S. stateside employees who work ashore and have been employed by Crowley for a year or more. The policy includes birth mothers; a spouse or committed partner of a woman who has given birth to the employee's child; an employee who has adopted a child; or an employee who has been placed with a foster child.
Only 10 percent of companies offer workers full pay while on parental leave, according to the 2016 National Study of Employers by the Society for Human Resource Management. Only 15 percent of companies provide any level of paid time off for spouses or partners, the study found. 
"We know that becoming a new parent is a watershed event in the lives of our employees. This policy demonstrates that our company is committed to supporting employees so they may develop their careers while supporting their health and families," said Tom Crowley, chairman and CEO. "Not only is a family-friendly environment valued by employees, it also makes our company better by increasing engagement, motivation and productivity."
The new parental leave policy elevates Crowley's longtime dedication to attracting and retaining high-performing talent as an employer of choice, recognizing that employee well-being and family health is a critical element to company success. 
"We understand that supporting a balanced home life is key to our company attracting and retaining workers and reaching our full potential as a company. Providing paid leave can increase morale and productivity while also supporting the health and wellness of employees and their children," said Crowley's Susan Michel, vice president, human resources and learning.
Jacksonville-based Crowley Holdings Inc., a holding company of the 125-year-old Crowley Maritime Corporation, is a privately held family and employee-owned company. The company provides project solutions, energy and logistics services in domestic and international markets by means of six operating lines of business: Puerto Rico/Caribbean Liner Services, Latin America Liner Services, Logistics Services, Petroleum Services, Marine Services and Technical Services. Offered within these operating lines of business are: liner container shipping, logistics, contract towing and transportation; ship assist and escort; energy support; salvage and emergency response through its 50 percent ownership in Ardent Global; vessel management; vessel construction and naval architecture through its Jensen Maritime subsidiary; government services, and petroleum and chemical transportation, distribution and sales. Additional information about Crowley, its subsidiaries and business units may be found at www.crowley.com.