Crowley Introduces Career Opportunities to Alaska Native Middle School Students in Valdez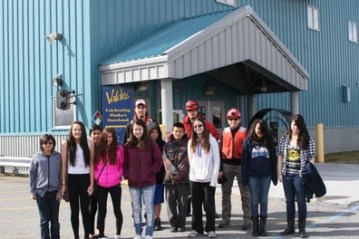 (VALDEZ, Alaska; June 23, 2015) ­– Crowley Maritime Corp. recently sponsored a week of cultural, team building and learning activities for Yakutat and Gilson Middle School students in Valdez, as a part of a larger effort to expose Alaska Natives to the many diverse career opportunities that exist within the state's maritime industry.
The group of 16 students – 10 of whom were Native Alaskans – first toured Crowley's Valdez office and spent time at Alyeska Pipeline Service Company's Ship Escort/Response Vessel System (SERVS), where Mike Day, SERVS operations manager, provided an overview of daily operations in Valdez and explained SERVS' partnership with Crowley. The students then had the opportunity to meet with several Alaska Natives who sail aboard Crowley's vessels, and toured Allison Point, Solomon Gulch, the Old Valdez Town Site, Maxine & Jesse Whitney Museum, Prince William Sound Community College and the Valdez Senior Center. At the Valdez Senior Center, the group connected with the elders by performing songs and introducing themselves in their native language, as a way to "breathe life" back into their shared traditional upbringings and Tlingit heritage.
Finally, the students enjoyed an educational tour of the Valdez Museum and participated in the Valdez High School career fair, which gave them the opportunity to meet business leaders from across the state. An evening barbecue at Dock Point Pavilion introduced the students to Crowley office personnel and Betty McIntyre, an Alaskan Native advocate in Valdez.
"It was a pleasure to be a part of their success for the week," said Crowley's Tom Hancock, assistant port captain, who guided the students through the week's activities. "I look forward to providing the same type of eye opening, cultural and community outreach program to another group of Alaska Native Middle School Students in the future."
In addition to offering shoreside and vessel employment opportunities to Alaska residents, Crowley also provides state-wide scholarships and support within the communities in which the company does business. To learn more about the opportunities Crowley offers Natives, please read the recent article – Crowley Alaska: Dedicated to Creating Lifelong Opportunities for Natives in the last edition of Crowley Connections magazine. 
For more than 60 years, Crowley has been a leader in the Alaska fuel industry, providing transportation, distribution and sales of petroleum products to more than 280 communities across Alaska. Crowley supports the energy industry on the North Slope with summer sealifts of large production modules and various marine transportation services. At the southern terminus of the trans-Alaska oil pipeline, Crowley provides tanker escort and docking services in Valdez Harbor and Prince William Sound for Alyeska Pipeline Service Company's Ship Escort/Response Vessel System, utilizing some of the most technologically advanced and powerful tugboats in the world. To learn more about Crowley in Alaska, visit: www.crowleyalaska.com.
To learn more about Crowley Maritime Corporation, the 123-year-old, privately held company providing marine solutions, energy and logistics services around the world, please visit: www.crowley.com.
#     #     #