Crowley Honors USMMA Midshipman with the Company's Maritime Security Enhancement Award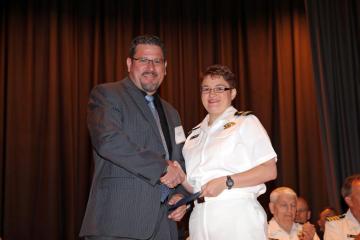 Crowley Maritime Corporation recently presented U.S. Merchant Marine Academy (USMMA) Midshipman Sara Pisarski with the company's Maritime Security Enhancement Award. The Maritime Security Enhancement Award, established in 2003, gives a one-time, $500 award to a USMMA student who demonstrates a strong interest in a port, maritime or transportation security career and who achieves the highest grade in the academy's transportation security class.
Mark Marien, manager, regulatory training for Crowley, presented the certificate of recognition and the financial award to Pisarski on behalf of Crowley, saying, "We are very proud to present this award to Sara, who is eagerly starting her career in maritime security."
Pisarski, a native of Bowling Green, Ohio, began attending USMMA in 2013 and graduated this year with a degree in maritime logistics and security. During an internship at the U.S. Department of State, she worked on an Interagency Maritime Security Working Group and gained additional, valuable experience during her sea year. Her junior and senior years focused on a security curriculum, including classes in vessel and company security officer studies and maritime security research. Pisarski served as academic and training officer within the regiment of midshipmen and served as the executive officer for the Coast Guard Club during her senior year. She was active in the midshipmen tutor program, the regimental band and was manager of the women's basketball team. Following her graduation, Pisarski, now a licensed merchant mariner, reported for duty with the U.S. Coast Guard where she is serving as ensign aboard a cutter in St. Petersburg, Fla.
Helping to develop the next generation of U.S. merchant mariners such as Pisarski is of vital importance to Crowley, the maritime industry and the nation at large. The Merchant Marine primarily transports cargo and passengers during peacetime.  In times of war, the Merchant Marine can be an auxiliary to the U.S. Navy, and can be called upon to deliver military personnel and materiel for the Department of Defense. Some, like Pisarski, choose to serve in the U.S. Coast Guard. 
Since 1984, Crowley has provided more than $3 million dollars in scholarship funding for more than 1,000 students. The company has also donated more than $2 million over the years to support other educational programs. In 1994, Chairman and CEO Tom Crowley Jr., established the Thomas B. Crowley Sr. Memorial Scholarship Program in honor of his father who led the company to extraordinary heights before passing away in 1994. The company continues to give scholarship dollars to deserving students in the U.S., Alaska and Puerto Rico. In 2006, the program was expanded to Central America and to date, has provided financial assistance to 20 students in that region. To learn more about the Thomas B. Crowley Sr. Memorial Scholarship program, visit  www.crowley.com/scholarships.
To learn more about Jacksonville-based Crowley Holdings Inc., the holding company of 123-year-old Crowley Maritime Corporation, which provides project solutions, energy and logistics services in domestic and international markets by means of six diverse operating lines of business visit www.crowley.com.
#     #     #