Crowley Honors USMMA Midshipman with the Company's Maritime Security Enhancement Award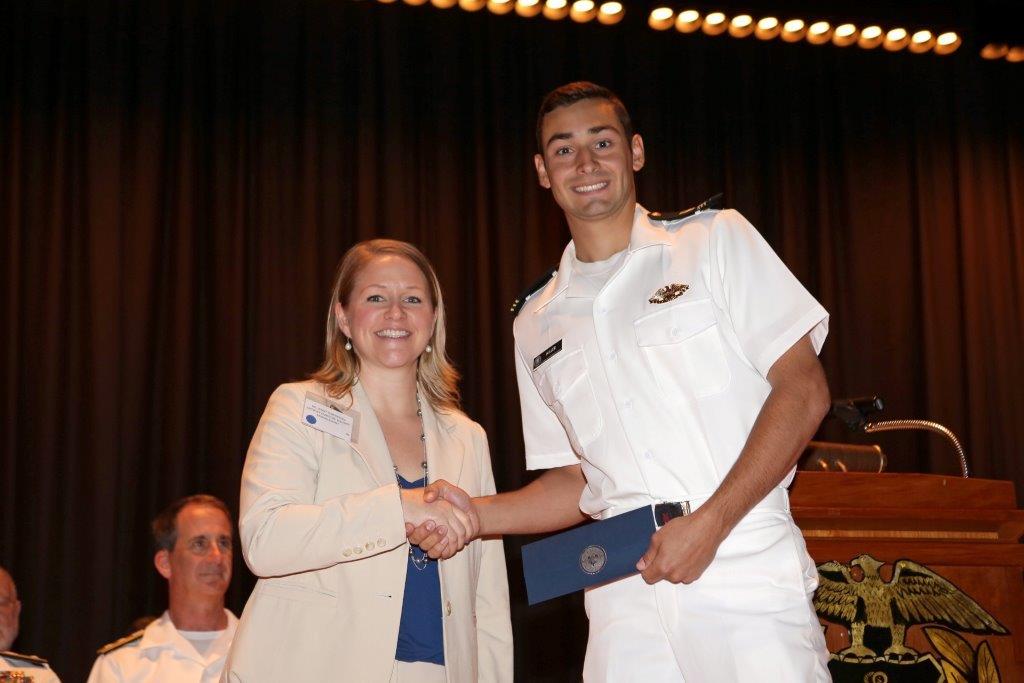 (KINGS POINT, NY; September 11, 2015) – Crowley Maritime Corporation recently presented U.S. Merchant Marine Academy (USMMA) Midshipman Christian Alexander Miller with the company's Maritime Security Enhancement Award. The Maritime Security Enhancement Award, established in 2003, gives a one-time, $500 award to a USMMA student who demonstrates a strong interest in a port, maritime or transportation security career and who achieves the highest grade in the academy's transportation security class.
Jenny Terpenning, labor relations representative for Crowley, presented the certificate of recognition and cash award to Miller on behalf of Crowley, commenting, "We are very proud to present this award to Mr. Miller who is eager to start his sea-going career on a Crowley tanker."
Miller, a native of El Paso, Texas, began attending USMMA in 2011 and graduated this year with a degree in intermodal logistics and transportation. During his senior year, he participated in the maritime security elective, with a focus on maritime cyber security, leading to his award. He also served as regimental supply officer within the regiment of midshipmen and was captain of the tennis team during his senior year. 
Since 1984, Crowley has provided more than $3 million dollars in scholarship funding for more than 1,000 students. The company has also donated more than $2 million over the years to support other educational programs.  In 1994, Chairman and CEO Tom Crowley Jr., established the Thomas B. Crowley Sr. Memorial Scholarship Program in honor of his father who led the company to extraordinary heights before passing away in 1994. The company continues to give scholarship dollars to deserving students in the U.S., Alaska and Puerto Rico. In 2006, the program was expanded to Central America and to date, has provided financial assistance to 20 students in that region. To learn more about the Thomas B. Crowley Sr. Memorial Scholarship program, visit www.crowley.com/scholarships.
To learn more about Jacksonville-based Crowley Holdings Inc., the holding company of 123-year-old Crowley Maritime Corporation, which provides project solutions, energy and logistics services in domestic and international markets by means of six diverse operating lines of business visit www.crowley.com.