Crowley Honors USMMA Midshipman with Company's Maritime Security Enhancement Award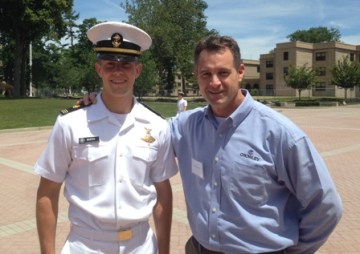 (Kings Point, N.Y.; June 30, 2014) – Crowley Maritime Corporation recently presented U.S. Merchant Marine Academy (USMMA) Midshipman Kevin Berto with the Maritime Security Enhancement Award during the Academy's award convocation. Berto received the award, which was established by Crowley in 2003, in recognition of his strong interest in a port, maritime or transportation security career and high grade point average both in class and at sea as a cadet.
Crowley's Bren Wade, manager, marine compliance, presented Berto with the award on behalf of Crowley, and said, "We are proud to present Crowley's Maritime Security Enhancement Award to such a deserving and dedicated student."
Berto is a logistics and intermodal transportation major from Lake Forrest, Ill. He was one of two Regimental Commanders for the class of 2014, meaning he was the top-ranking midshipman officer and commander of the 700 member regiment of midshipmen, and will be accepting a commission in the U.S. Coast Guard.
In addition to the Crowley Maritime Enhancement Award, he also received the American Bureau of Shipping Award, the Cargocaire Award, the Admiral Land Medal, the Excellence in Cargo Operations Award, the VFW Award, the Captain Walter Alvey Memorial Award, the Transas USA Award, the SeaRiver Maritime Award, the Reserve Officers' Association Award, the New York Commander Naval Order of the United States Award and the Regimental Commander's Award during the event.
Each year, the Maritime Security Enhancement Award is given to a USMMA student who demonstrates a strong interest in a port, maritime or transportation security career and who achieves the highest grade in the academy's transportation security class.
Since 1984, Crowley has provided more than $3 million dollars in scholarship funding for more than 1,000 students studying at maritime academies and other select institutions in the U.S., Puerto Rico and Central America. In 1994, Crowley Chairman and CEO, Tom Crowley Jr., established the Thomas B. Crowley Sr. Memorial Scholarship Program, in honor of his father, and has also donated more than $2 million to support other educational programs.
To learn more about the Thomas B. Crowley Sr. Memorial Scholarship program, visit www.crowley.com/scholarships.
Jacksonville-based Crowley Holdings Inc., a holding company of the 122-year-old Crowley Maritime Corporation, is a privately held family and employee-owned company. The company provides project solutions, transportation and logistics services in domestic and international markets by means of six operating lines of business: Puerto Rico/Caribbean Liner Services, Latin America Liner Services, Logistics Services, Petroleum Services, Marine Services and Technical Services. Offered within these operating lines of business are: liner container shipping, logistics, contract towing and transportation; ship assist and escort; energy support; salvage and emergency response through its TITAN Salvage subsidiary; vessel management; vessel construction and naval architecture through its Jensen Maritime subsidiary; government services, and petroleum and chemical transportation, distribution and sales. Additional information about Crowley, its subsidiaries and business units may be found on the Internet at www.crowley.com.