Crowley Honored with "Alaska Safe Truck Fleet of the Year" and "Most Improved Fleet" Awards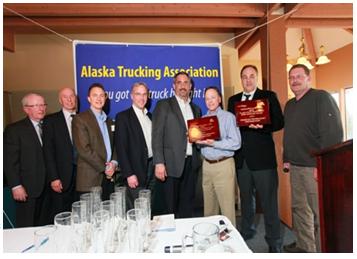 (ANCHORAGE, Alaska; April 30, 2013) – Crowley's Alaska petroleum distribution subsidiary, CPD Alaska, LLC., was recently honored with the "Alaska Safe Truck Fleet of the Year" and the "Most Improved Fleet" awards during customer ConocoPhillips' and the Alaska Trucking Association (ATA)'s annual Safety Awards Banquet, held in Anchorage in late April. Crowley's Bob Cox, vice president, and Mike Moeller, director of trucking, attended the banquet and accepted the awards on behalf of the company.
To be considered for the "Safe Truck Fleet of the Year" award, the Crowley team was evaluated and ranked on several 2012 statistics, including the total number of miles driven, as well as the company's Federal Motor Carrier Safety Administration CSA fleet scores, accident frequency and overall Occupational Safety and Health Administration (OSHA) rate. Last year, the 125 vehicles in the Crowley fleet drove more than 1.8 million accident free miles, delivering in excess of 100 million gallons of petroleum products to 280 communities across the State of Alaska.
Crowley has also made a significant commitment towards ensuring that it has the best fleet possible on Alaska's roadways. Starting in 2011, the team embarked on a five-year plan to incorporate additional safety equipment and industry best practices into its fleet and program, replace aging vehicles, improve communication and compliance, and seek out constructive feedback to improve operations. Since the plan was enacted two years ago, Crowley has invested in more than 50 new pieces of equipment – including delivery trucks, tractors and trailers – that have helped to achieve higher dependability, productivity and safety.  These upgrades were key factors for Crowley being selected for the "Most Improved Fleet" award.
"These awards were accepted on behalf of the men and women of Crowley who earned it by doing their best every single day, often in incredibly challenging weather," said Cox, after accepting the honors. "These achievements would not have been possible without the concentrated efforts of all of our employees across the state of Alaska. Over the past two years, they have worked diligently on vehicle inspections, equipment maintenance and safe driving practices to realize our goal of having a safe and reliable truck fleet to better serve our customers.  This honor belongs to them."
The Safety Awards Banquet, dually hosted each year by the ATA and Conoco Phillips, is a premier event developed to recognize carriers with the best safety performance. The competition becomes more challenging with each passing years, as companies continually improve their focus on safety through regular meetings, driver workshops, trainings and a variety of other employee development programs.
# # #
About Crowley's Petroleum Distribution Business in Alaska
Crowley has served Alaska communities for over 50 years with quality, reliability and competitively priced products. Crowley delivers heating oil, propane, gasoline, diesel, aviation fuel, marine fuel and lubricant products to customers along the Railbelt and throughout Western Alaska. Crowley's petroleum distribution business, CPD Alaska LLC, operates a network of 20 terminal facilities, 50 million gallons of bulk storage and a large delivery fleet to ensure local availability of petroleum products. Crowley's approximately 250 employees live and work in the communities they serve. To learn more about Crowley in Alaska, visit: www.cpdalaska.com.