Crowley Honored for Outstanding Marine Safety with ECOPRO Environmental Award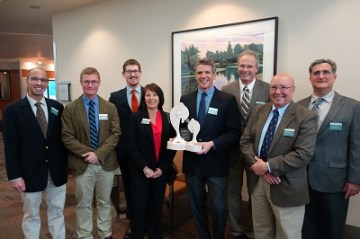 (SEATTLE; March 13, 2015) – The State of Washington's Department of Ecology has honored Crowley Maritime Corporation's petroleum services division once again with the Exceptional Compliance Program (ECOPRO) award in recognition of excellence in marine safety and environmental stewardship. The ECOPRO program represents a unique, non-regulatory environmental protection program for tank vessels, recognizing operators who demonstrate exceptional compliance with the program's strict criteria. 
Deputy Director Polly Zehn, representing the State's Department of Ecology Spill Prevention, Preparedness and Response Program, presented the award to Crowley during a ceremony at Seattle's Odyssey Maritime Discovery Center. Capt. Mark Homeyer, Crowley's director, West Coast marine operations, accepted the award on behalf of the company before an audience of U.S. Coast Guard and Maritime Administration (MARAD) attendees. Homeyer thanked the state for the recognition and reiterated both his and the company's commitment to environmental stewardship. 
"We are proud to be among the companies representing the leading edge of operational excellence in petroleum transportation in the world today," Homeyer said. "Our business is built on a strong commitment to environmental protection through safe and reliable petroleum transportation."    
"We are very appreciative of this special recognition and of the work done by the Department of Ecology to raise environmental protection standards for the whole industry," said Crowley's Rob Grune, senior vice president and general manager, petroleum services. "Crowley has operated in Puget Sound since 1923, and it's special to us because we live and work here. We have always believed that high environmental standards benefit our community, industry and company." 
Crowley-operated tankers and articulated-tug-barges (ATBs) regularly trade in Puget Sound and safely transport and deliver petroleum to terminals up and down the West Coast. Crowley is one of the largest independent operators of tank vessels in the U.S.
"Companies that achieve this award are operating their tank vessels at what we believe is the highest level of marine safety in the world today," said Ecology Prevention Manager Scott Ferguson.  "While our ECOPRO standards are higher than those required under state and federal laws, we know our standards are ultimately achievable. Washington's environment is clearly worth the effort."
Crowley first received this award in 2005 for its ATB division: joining an elite group of tanker and tank-barge operators which have earned ECOPRO recognition from Ecology since the program's inception in 1999. To gain membership, companies must meet industry best practice standards and undergo rigorous Ecology inspections encompassing a wide range of operational and safety best practices.  Members renew their commitment to the program every three years.
About Crowley
Crowley is one of the largest independent operators of petroleum barges and tankers in the United States, specializing in the safe and reliable transportation of domestic bulk petroleum and chemicals. The company owns and operates 17 articulated tug barges (ATBs) ranging in size from 155,000 bbl to 330,000 bbl capacity. Additionally, Crowley provides tanker management services for other U.S. companies.
Jacksonville-based Crowley Holdings Inc., a holding company of the 123-year-old Crowley Maritime Corporation, is a privately held family and employee-owned company. The company provides marine solutions, energy and logistics services in domestic and international markets by means of six operating lines of business: Puerto Rico Liner Services, Caribbean and Latin America Liner Services, Logistics Services, Petroleum Services, Marine Services and Technical Services. Offered within these operating lines of business are: liner container shipping, logistics, contract towing and transportation; ship assist and escort; energy support; salvage and emergency response through its TITAN Salvage subsidiary; vessel management; vessel construction and naval architecture through its Jensen Maritime subsidiary; government services, and petroleum and chemical transportation, distribution and sales. Additional information about Crowley, its subsidiaries and business units may be found on the Internet at www.crowley.com.
# # #