Crowley Honored as "National Best and Brightest in Wellness" for Workplace Health Program
Crowley Maritime Corporation has been honored as a "National Best and Brightest in Wellness" winner by the National Association for Business Resources (NABR), which evaluates and assesses the quality and excellence of workplace health awareness and programs.
Crowley's "Live Well" wellness program promotes the health and wellness of employees by creating a work environment that nurtures all dimensions of wellness while heightening engagement, reinforcing healthy behaviors, increasing performance and controlling health care expenditures.
More than 90 percent of eligible Crowley employees participate in the Live Well program. The company has an online portal to promote company-wide wellness programs, such as health and nutritional challenges, a health library, motivational e-cards, and a monthly newsletter. Crowley also offers on-site health evaluations, risk assessments and flu shots to employees, plus health coaching programs, weight management and gym reimbursement programs.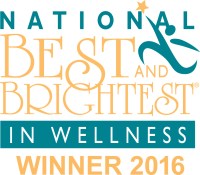 Crowley's support of wellness programs has produced significant results. Since 2013, the number of employees completing annual health evaluations has increased by more than 50 percent. In turn, the overall health risk of the employee population has fallen from moderate to low. The number of tobacco users has dropped by 40 percent.
 "Increasing the wellness of employees continues to pay dividends for Crowley," said Katy Keene, manager, employee programs. "By supporting a culture of health awareness, we improve the lives of our employees by supporting positive habits and activities. These programs advance our goals of a safe, high-performing workplace."
Crowley is one of 86 honorees by the NABR program.
The Best and Brightest in Wellness is an initiative that recognizes and celebrates quality and excellence in health awareness. The NABR program highlights companies, schools, faith-based groups and organizations that promote a culture of wellness, and those that plan, implement and evaluate efforts in employee wellness to make their business and the community a healthier place to live and work. The NABR, established in 1996, fosters a collaborative environment in which companies and leaders throughout the U.S. learn best practices, trends, and vital information benefiting the company and its employees well beyond the finances. 
Jacksonville-based Crowley Holdings Inc., a holding company of the 125-year-old Crowley Maritime Corporation, is a privately held family and employee-owned company. The company provides project solutions, energy and logistics services in domestic and international markets by means of six operating lines of business: Puerto Rico/Caribbean Liner Services, Latin America Liner Services, Logistics Services, Petroleum Services, Marine Services and Technical Services. Offered within these operating lines of business are: liner container shipping, logistics, contract towing and transportation; ship assist and escort; energy support; salvage and emergency response through its 50 percent ownership in Ardent Global; vessel management; vessel construction and naval architecture through its Jensen Maritime subsidiary; government services, and petroleum and chemical transportation, distribution and sales. Additional information about Crowley, its subsidiaries and business units may be found at www.crowley.com.