Crowley Helps Puerto Rico Students Bring Solar-Powered Vehicle to U.S. Mainland for Competition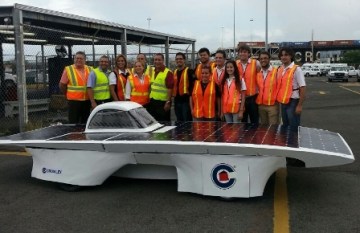 (AUSTIN, Texas; July 14, 2014) – Sixteen students from the University of Puerto Rico's Mayaguez campus will soon travel to Austin, Texas, for the 2014 American Solar Challenge, a competition that challenges teams of university students to design, build and race solar-powered vehicles. Crowley Maritime Corporation, as a sponsor of the school's Solar Engineering Research Racing Team, shipped the team's racing vehicle,El Wanabi, from San Juan to the U.S. mainland aboard the Miami, one of the company's 730-foot Roll-on/Roll-off (RO/RO) barges.
The vehicle, designed by the school's Solar Engineering Research Racing Team, will compete against 23 similar units built by teams of students from universities around the world in an eight-day race from Austin to Minneapolis, Minn., starting July 21. Before the race, however, teams must qualify to participate by completing a minimum number of laps with each of their drivers during the Formula Sun Grand Prix, a three-day track race in Austin beginning July 17. Starting order for the cross-country road race, during which students must obey speed limits, is determined by the number of laps driven during this qualifying event. Ultimately, the teams are competing for a trophy and recognition for their university.
The students' vehicle, which had to be dismantled for transit from Puerto Rico to the company's port terminal in Jacksonville, Fla., was shipped inside a wooden box on a trailer. The Crowley team in San Juan backed the trailer onto the under deck of the Miami to facilitate immediate discharge upon arrival. After Crowley shipped and delivered the vehicle to the students in Jacksonville, they drove it to Austin in time for the beginning of the event. Crowley will also handle the car's shipment back to Puerto Rico following the competition.
This is the first time since 1995 that the University of Puerto Rico at Mayaguez has participated in such an event.  This vehicle took the team of students a full year to design and an additional six months to build. They chose a design featuring carbon fiber and aluminum honeycomb panels, four wheels and 384 custom-made individual solar cells affixed to the hood. These solar cells convert sunlight into electricity, which in turn powers an electric motor.
"Most teams select designs with three wheels, which are good for aerodynamics, but not stability. With four wheels, the car can handle curves more easily and at higher speeds. A car with four wheels is also easier to handle for long periods of time," said Gustavo Gonzalez, student and captain of the team.
Crowley has sponsored competition teams in the past, most recently University of Puerto Rico's Colegio Racing Engineering group in the annual Formula SAE competition.
Crowley has proudly served the shipping needs of Puerto Rico since 1954. Originally operating as TMT Trailer Ferry, Crowley has literally served as a lifeline to the island, delivering groceries, department store merchandise, building materials, automobiles and more. The company has also helped bolster the Puerto Rican export economy by transporting food, pharmaceuticals, rum and other consumer goods to the U.S. mainland. The company employs almost 200 people in Puerto Rico with an annual payroll of over $18.5 million.
Jacksonville-based Crowley Holdings Inc., a holding company of the 122-year-old Crowley Maritime Corporation, is a privately held family and employee-owned company. The company provides project solutions, transportation and logistics services in domestic and international markets by means of six operating lines of business: Puerto Rico/Caribbean Liner Services, Latin America Liner Services, Logistics Services, Petroleum Services, Marine Services and Technical Services. Offered within these operating lines of business are: liner container shipping, logistics, contract towing and transportation; ship assist and escort; energy support; salvage and emergency response through its TITAN Salvage subsidiary; vessel management; vessel construction and naval architecture through its Jensen Maritime subsidiary; government services, and petroleum and chemical transportation, distribution and sales. Additional information about Crowley, its subsidiaries and business units may be found on the Internet at www.crowley.com.
Photo caption: (From left to right) Miguel Román, logistics manager, Francheska Lopez, solar car driver, Edward Padilla, suspension design leader, Xavier Camacho, electrical leader, Marielis Suarez, roll cage design leader and solar car driver, Ernesto Perez, manufacturing leader, Gustavo González, captain, and Kevin Corpetti, battery design leader, at Crowley's port terminal in Jacksonville.