Crowley Giving Away 100 Gallons of Home Heating Fuel to One Lucky Fairbanks Household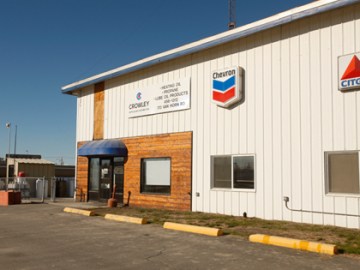 (FAIRBANKS, Alaska; September 28, 2012) – Just in time for the winter season, Crowley is giving away 100 gallons of heating oil to one lucky sweepstakes winner in the Fairbanks-North Star Borough. The October sweepstakes is open to both customers and non-customers and includes delivery of the product to the home of the winner. This prize, valued between $400 and $500, is Crowley's way of saying thank you to the people of Fairbanks for over 50 years of support.
While no purchase is necessary, entry does require internet access as you must visit www.crowley.com/fairbanks and click the registration link to enter. The company will award one prize to a randomly selected winner who will be notified by telephone and/or email. The sweepstakes deadline is October 31, 2012. Rules, terms and conditions may also be found on the Crowley Fairbanks web page.
"We appreciate the support we have received from the community of Fairbanks and want to help offset home heating costs for a lucky household through this sweepstakes," said Bill Holland, manager of sales. "We are hoping the sweepstakes generates some excitement and goodwill with a community we've been proud to serve for over 50 years."
"While only one household will win, we want folks to know that we are pleased to quote heating oil prices for anyone needing their tanks replenished after the summer," Holland said. "Residents in the Fairbanks – North Pole area can simply dial 328-4500, visit our website at www.crowley.com/fairbanks, or drop by our office."
Crowley's Fairbanks office is located at 170 East Van Horn Rd, Fairbanks, Alaska 99701, and offers residential and commercial heating oil and propane delivery, on-site propane refilling, lubricants and commercial/industrial petroleum products delivery. Crowley's Fairbanks team is committed to providing excellent service and safe, reliable delivery of residential and commercial products at competitive prices.
Crowley has served Alaska communities for over 50 years with quality, reliability and competitively priced products. Crowley delivers heating oil, propane, gasoline, diesel, aviation fuel, marine fuel and lubricant products to customers along the Railbelt and throughout Western Alaska. Crowley's petroleum distribution business, CPD Alaska LLC, operates a network of 20 terminal facilities, 50 million gallons of bulk storage and a large delivery fleet to ensure local availability of petroleum products. Crowley's approximately 250 employees live and work in the communities they serve. To learn more about Crowley in Alaska, visit: www.cpdalaska.com.
#   #   #