Crowley First to Receive Small-Scale License for Supply, Transportation and Distribution of LNG into NFTA Countries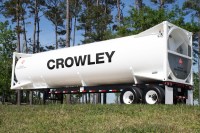 (JACKSONVILLE, Fla.; Sept. 10, 2014) – Crowley Maritime Corp. subsidiary Carib Energy LLC has been granted a 20-year, small-scale U.S. Department of Energy (DOE) export license for the supply, transportation and distribution of U.S.-sourced liquefied natural gas (LNG) into Non-Free Trade Agreement (NTFA) countries in the Caribbean, Central and South America. As a result, both commercial and industrial customers within NFTA countries can now benefit from cost-efficient, environmentally friendly LNG exported from the U.S.  The licensing permits Crowley to now export 14.6 billion cubic feet (BCF) 0.04bcf/d of LNG – roughly the equivalent of 480,000 gallons – per day via 10,700 gallon ISO tanks to these regions.
In addition to supplying NFTA countries, Crowley will also continue to supply Free Trade Agreement (FTA) countries with the clean, economical fuel source. Crowley's Carib Energy was also the first to have been granted a 25-year, small-scale license for the transportation into these FTA countries, a clearance that permits Crowley to transport 11.53 billion cubic feet (BCF) 0.03bcf/d or 360,000 gallons – per day of U.S.-sourced LNG into FTA markets in the Caribbean and Central and South America – locations where LNG is an attractive commodity thanks to its low price point in the face of growing power supply costs.
 "The challenge for any company in the business of moving LNG in ISO tanks is the flange-to-flange logistics of inland, ocean and island movements in a timely manner to keep the flow of LNG constant to the customer," said Crowley Vice President Greg Buffington. "Crowley not only has the expertise but also the available assets to make this a successful business, while presenting savings and a greener energy alternative for customers around the world."
Crowley recently announced the signing of a multi-year contract with Coca-Cola Bottlers of Puerto Rico to supply containerized, U.S.-sourced LNG to two of the manufacturer's plants in Cayey and Cidra, Puerto Rico. Carib Energy is also in negotiations with several other potential industrial customers that will soon convert to LNG.
Jacksonville-based Crowley Holdings Inc., a holding company of the 122-year-old Crowley Maritime Corporation, is a privately held family and employee-owned company. The company provides project solutions, transportation and logistics services in domestic and international markets by means of six operating lines of business: Puerto Rico/Caribbean Liner Services, Latin America Liner Services, Logistics Services, Petroleum Services, Marine Services and Technical Services. Offered within these operating lines of business are: liner container shipping, logistics, contract towing and transportation; ship assist and escort; energy support; salvage and emergency response through its TITAN Salvage subsidiary; vessel management; vessel construction and naval architecture through its Jensen Maritime subsidiary; government services, and petroleum and chemical transportation, distribution and sales. Additional information about Crowley, its subsidiaries and business units may be found on the Internet at www.crowley.com.
#     #     #