Crowley Featured in the "LA Times" for "USS Iowa" Tow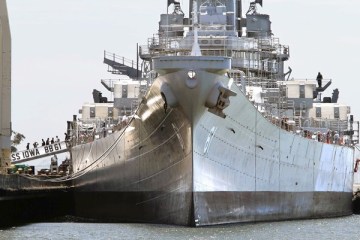 The Los Angeles Times ran a story in Sunday's paper featuring Crowley and its upcoming ocean tow of the retired military vessel USS Iowa. The battleship will be towed later this month from San Francisco to Los Angeles, where it will become an interactive naval museum. At 14 stories high, over 800 feet long and more than 45,000 tons, the vessel was fully operational through the '80s, World War II and the Korean War. The several-day tow is made possible by the efforts of Crowley's marine services team and the company's 7,200-HP tugboat Warrior, which will connect to the battleship through a series of tow lines and chains.
Read the full story here or check out the graphic that explains the tow.
Photo: Don Bartletti, Los Angeles Times / May 11, 2012