Crowley Expands Terminal Complex at Port Everglades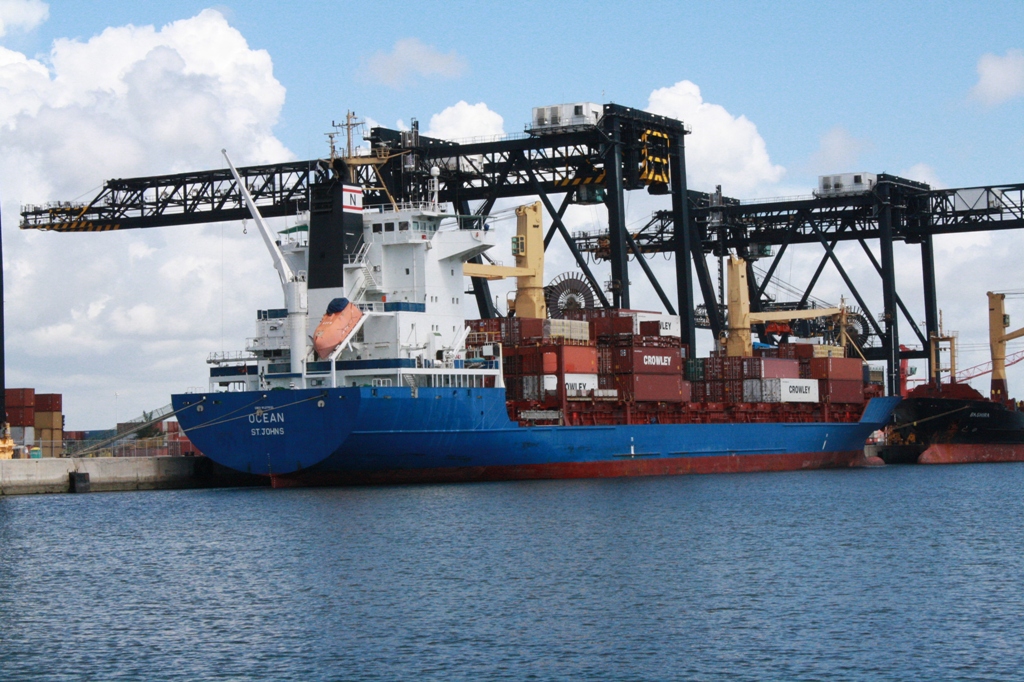 (Jacksonville, Fla., Dec. 15, 2010) ­– Crowley Maritime is expanding at Port Everglades with a new 10-year terminal lease that calls for additional acreage and increased container guarantees. The Broward County Commission, the governing board for Port Everglades, approved the new lease today.
"Crowley Liner Services is a success story for the Southport area, which was expanded in 1997 when Broward County purchased additional acreage for container handling," says Port Everglades Director Phil Allen. "Crowley was the first containerized cargo operator in Southport and has since expanded three times since coming to Port Everglades in January 1990."
The terms of the new lease call for increasing Crowley's terminal from 68.2 to 80 acres. Guaranteed container moves will begin at 110,000 in 2011, increase to 112,000 in 2012, and increase by 1,000 annually thereafter on each January 1 through 2020. Under the new agreement Crowley's first-year guarantee represents nearly 96 percent of their FY10 container volumes.
"Crowley is extremely pleased with the unanimous approval of the Broward County Commission on the new ten-year agreement with two five-year options for their Port Everglades Terminal operation. It is the favorable business climate in Broward and Port Everglades which has allowed Crowley to triple their business volume through this port over the last 20 years. The new agreement provides fertile ground for more expansion and new business development," said Crowley's Michael Hopkins, vice president of operations, Latin America services.
Crowley operates the largest container terminal in Port Everglades and the company's economic impact through the Port could increase by 9 percent over the remaining term of this agreement, based on the increase in guaranteed volumes alone. The economic impact resulting from Crowley's activity at Port Everglades is estimated to support 31,983 jobs and generate personal income of $1.1 billion, plus state and local taxes of approximately $80.1 million. These impact estimates are based on the Port Everglades Economic Impacts Model developed by Martin Associates as part of the 2006 Port Everglades Master/Vision Plan.
Port Everglades is one of the nation's leading container ports and a trade gateway to Latin America and Caribbean. Port Everglades has direct access to the interstate highway system, is within two miles of the FEC rail hub and is just one mile from the Atlantic Shipping Lanes. Ongoing capital improvements and expansion ensure that Port Everglades will have the ability to handle future growth in container traffic. A world-class cargo handling facility, Port Everglades serves as an ideal point of entry for products shipped around the world.
Jacksonville-based Crowley Holdings Inc., a holding company of the 118-year-old Crowley Maritime Corporation, is a privately held family and employee-owned company. The company provides marine solutions, transportation and logistics services in domestic and international markets by means of six operating lines of business: Puerto Rico/Caribbean Liner Services, Latin America Liner Services, Logistics Services, Petroleum Services, Marine Services and Technical Services. Offered within these operating lines of business are: liner container and breakbulk shipping; logistics; contract towing and transportation; harbor ship assist and tanker escort; energy support; salvage and emergency response through its TITAN Salvage subsidiary; vessel management; vessel construction and naval architecture through its Jensen Maritime subsidiary; government services, and petroleum and chemical transportation, distribution and sales. Additional information about Crowley, its subsidiaries and business units may be found on the Internet at www.crowley.com.
# # #