Crowley Establishes New "Project Solutions" Enterprise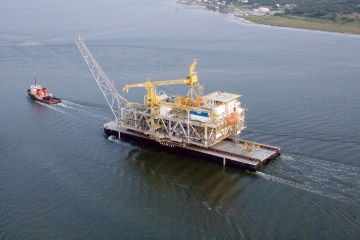 Combining Project Management with Company Services and Equipment to Provide Complete Turnkey Marine Solutions
(JACKSONVILLE, Fla., Sept. 19, 2011) ­- Crowley Maritime Corporation announced today the establishment of a new Project Solutions group that bundles company-wide capabilities and assets with world-class project management skills to provide complete turnkey marine solutions. This specialized team, which now has a Project Management Office (PMO) in Houston, Texas, allows Crowley to provide greater value to customers with multifaceted marine and offshore construction-related projects.
Crowley's Project Solutions group, led by Crowley Vice President Craig Tornga, is a project management organization staffed with highly trained Project Management Professionals (PMPs) who can evaluate customers' overall project requirements to determine what services and assets Crowley can bring to the table – whether they are company-provided or from third parties – to provide comprehensive solutions.
Tornga, who is domiciled in Houston, reports to Todd Busch, Crowley's senior vice president and general manager, technical services. Other senior team members include Michael G. Johnson, vice president of the project management office; Dorine Tessier, vice president of the project support office; Greg Detiveaux, vice president of business development, and Dan Crosby, director of finance. Each senior team member is domiciled in Houston.
"Over the years, our work with upstream energy customers, whether their projects are offshore or onshore in remote locations, has typically taken us from a defined role to one of increased project management scope as we demonstrate our competence and professionalism," said Tom Crowley, chairman, president and CEO. "Putting some formal structure around our project management capabilities with talented people and processes will allow us to help customers transform ambiguous projects into ones that are focused, productive and deliver tangible results."
For customers in the upstream energy and offshore construction industries, Project Solutions can create realistic project schedules and can develop effective plans that have clear responsibilities and milestones. The team will manage the scope of each project, including identifying problems when they are still small enough to solve. Serving as the single point of responsibility, Crowley can align the efforts of designers, contractors, and third parties to project goals and standards. By starting early in the conceptual and planning process, the value added to the customer in efficiencies and cost savings can be significant.
The Project Solutions portfolio of company-wide services include marine project management; heavy lift barge transportation; ocean towing; project concept studies; engineering management; emergency response; international container, breakbulk and petroleum shipping; full-service logistics, including specialized project cargo freight forwarding from subsidiary Jarvis International Freight; naval architecture, marine engineering, vessel design and construction from subsidiary Jensen Maritime; operational management; and marine salvage, wreck removal and emergency response from subsidiary TITAN Salvage; harbor ship assist and tanker escort and more.
Additionally, Project Solutions has access to a variety of Crowley-owned assets and equipment, including a diverse fleet of high-horsepower tugs and large deck barges. The company's 455 Series deck barges (400 ft. x 105 ft. x 25 ft.) provide both the capacity and deck strength needed to accommodate large drilling and production units used for deepwater offshore energy exploration and development. Crowley also operates a fleet of shallow draft tugs and barges in Prudhoe Bay, Alaska, in support of the oil and gas industry in the Arctic. Additionally, Crowley is building four Ocean Class tugboats with 10,880 BHP and dynamic positioning, which are scheduled to be in service by 2012.
"Customers appreciate and value the fact that we can offer turnkey solutions that include planning, cost control, reporting and scheduling," said Busch. "The combination of Crowley's people, capabilities, resources and equipment solidify and strengthen us as a leader in these industries."
Jacksonville-based Crowley Holdings Inc., a holding company of the 119-year-old Crowley Maritime Corporation, is a privately held family and employee-owned company. The company provides project solutions, transportation and logistics services in domestic and international markets by means of six operating lines of business: Puerto Rico/Caribbean Liner Services, Latin America Liner Services, Logistics Services, Petroleum Services, Marine Services and Technical Services. Offered within these operating lines of business are: liner container shipping, logistics, contract towing and transportation; ship assist and escort; energy support; salvage and emergency response through its TITAN Salvage subsidiary; vessel management; vessel construction and naval architecture through its Jensen Maritime subsidiary; government services, and petroleum and chemical transportation, distribution and sales. Additional information about Crowley, its subsidiaries and business units may be found on the Internet at www.crowley.com.
# # #
Caption: Tow of the loaded heavy lift barge Marty J from Houma, La.