Crowley Establishes Flow of Relief Cargo into Puerto Rico Following Hurricane Maria
Crowley Maritime Corp. announced today that it has already established a flow of relief cargo into San Juan, Puerto Rico, following Hurricane Maria, the devastating Category 4 storm that made direct impact with the island on Wednesday.  
To make this possible, Crowley has four vessels loaded with a mix of relief and commercial cargo currently en route to the company's Isla Grande terminal in San Juan, with two more scheduled to follow. These six vessels will begin entering the harbor as soon as the U.S. Coast Guard deems it is safe to do so, which some reports indicate may be as early as tomorrow morning. In total, these six vessels will bring in more than 2,200 full container loads of food and aid cargo, as well as commercial goods, to Puerto Rico.
In addition to these incoming barge loads, the company currently has more than 2,200 full container loads of food and aid cargo, as well as commercial goods, safely stored and awaiting distribution at its terminal now.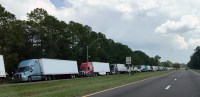 "Our focus and priority continues to be on the safety and health of our employees and the recovery efforts for all the families of Puerto Rico," said Crowley's John Hourihan, senior vice president and general manager, Puerto Rico services. "While our schedule of operations is contingent on the U.S. Coast Guard giving us the 'all clear' in the harbor to safely operate, we are working with the local authorities to resume operations, as well as with Hacienda to facilitate the efficient and timely release of food and aid cargo."
"A key component to reopening the supply chain will be the availability of truck power to move the loads to their inland destinations and the ability of our customers to receive cargo," Hourihan said. "With so much damage to infrastructure and facilities, this will be a challenge, but we remain optimistic about the resiliency of the people of Puerto Rico and their desire to do whatever is necessary to recover as quickly as possible."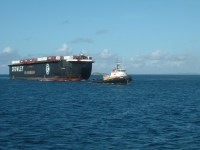 Crowley's Isla Grande terminal in San Juan incurred minor damage during the weather event and is expected to be open for business from 8 a.m. to 12 p.m. tomorrow, Saturday, Sept. 23, and Sunday, Sept. 24. On Monday, Crowley will resume the normal 7:30 a.m. to 3 p.m. operational hours for the week. The company's Guaynabo warehouse is also scheduled to be open starting on Saturday from 8 a.m. to 12 p.m.
Crowley, which has about 300 Puerto Rico employees, has served the Puerto Rico market since 1954, longer than any other Jones Act carrier in the trade.
Jacksonville-based Crowley Holdings Inc., a holding company of the 125-year-old Crowley Maritime Corporation, is a privately held family and employee-owned company. The company provides project solutions, energy and logistics services in domestic and international markets by means of six operating lines of business: Puerto Rico/Caribbean Liner Services, Latin America Liner Services, Logistics Services, Petroleum Services, Marine Services and Technical Services. Offered within these operating lines of business are: liner container shipping, logistics, contract towing and transportation; ship assist and escort; energy support; salvage and emergency response through its 50 percent ownership in Ardent Global; vessel management; vessel construction and naval architecture through its Jensen Maritime subsidiary; government services, and petroleum and chemical transportation, distribution and sales. Additional information about Crowley, its subsidiaries and business units may be found at crowley.com.