Crowley Enhances Container Shipping Service between Florida and Panama; New Consolidated Panama Office Offers Full Supply Chain Services
To better serve customers shipping between the U.S. and Panama, Crowley Maritime Corp.'s liner services group announced today that it has enhanced its ocean container transportation services with a new, weekly sailing connecting Jacksonville and Port Everglades, Fla., more directly with Manzanillo, Panama. This sailing complements a new office in Panama, which combines Crowley's ocean cargo and logistics personnel, to provide streamlined supply chain services.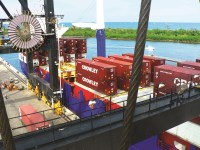 Two Crowley 1,100-TEU (twenty-foot equivalent unit) container ships, the MV Toronto Trader and MV Weisshorn, now alternate carrying cargo southbound from Jacksonville on Thursday and Port Everglades on Friday before arriving in Kingston, Jamaica, on Sunday; Limon, Costa Rica, on Tuesday; and Manzanillo, Panama, on Thursday. The vessels quick turn and sail northbound from Manzanillo on Thursdays; arriving in Limon on Friday; Port Everglades on Tuesday and Jacksonville on Wednesday.
"This new weekly sailing between the U.S. and Panama gives customers a quick, reliable way to deliver their cargo to manufacturers and consumers," said Steve Collar, Crowley senior vice president and general manager, international liner services. "This enhancement to our ocean cargo service combines seamlessly with our full offering of logistics solutions in Panama to provide customers with a single-point of accountability and reduced transit times. These benefits can ultimately help to reduce the overall landed costs of their cargo as it transits the supply chain."
Once cargo arrives in Panama, employees at the company's newly consolidated liner and logistics office at Manzanillo International Terminal (Building C, Office B-7, Second Floor, Navieras Area) can streamline the handling of goods in country and throughout the region. Customers may contact this office by calling 011-507-302-9100.
"This new facility reinforces the strength of our operation in this key area," said Claudia Kattan-Jordan, vice president, liner services, Central America. "Panama is a major distribution center for shipments arriving from a variety of places, especially China. This strategic location will facilitate the company's cross-trade/Interport services to other locations throughout the Caribbean."
The new Panama office supplements and supports the company's distribution center located at the Parque Industrial y Corredor Sur, Ave. Domingo Diaz (Via Tocumen), Edificio #5-6, Bodegas 1, 2, 3. Crowley's logistics professionals work with customers to enhance supply chain efficiency with integrated logistics services, such as inventory management and tracking, pool point distribution, consolidation and deconsolidation, cross-docking and transportation services.
Jacksonville-based Crowley Holdings Inc., a holding company of the 125-year-old Crowley Maritime Corporation, is a privately held family and employee-owned company. The company provides project solutions, energy and logistics services in domestic and international markets by means of six operating lines of business: Puerto Rico/Caribbean Liner Services, Latin America Liner Services, Logistics Services, Petroleum Services, Marine Services and Technical Services. Offered within these operating lines of business are: liner container shipping, logistics, contract towing and transportation; ship assist and escort; energy support; salvage and emergency response through its 50 percent ownership in Ardent Global; vessel management; vessel construction and naval architecture through its Jensen Maritime subsidiary; government services, and petroleum and chemical transportation, distribution and sales. Additional information about Crowley, its subsidiaries and business units may be found at www.crowley.com.