Crowley donates $20,000 for University of Alaska Fairbanks scholarships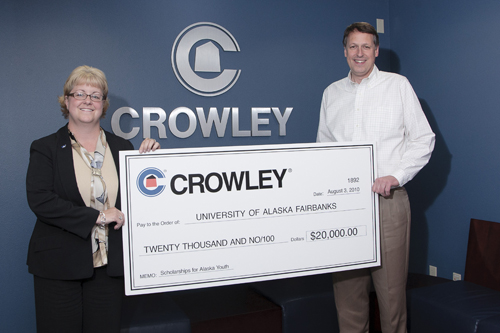 (Anchorage, Alaska; Aug. 6, 2010) — Crowley Maritime Corporation announced a gift of $20,000 to the University of Alaska Foundation this week, establishing a partnership with the University of Alaska Fairbanks geared toward advancing educational opportunities for students from rural communities where Crowley operates.
Two $5,000 scholarships will be awarded to students in the School of Fisheries and Ocean Sciences, with two more $5,000 scholarships for two students from the general student population at UAF.
"The goal here is developing leaders that eventually go back into their communities to work," said Craig Tornga, vice president of Crowley. "We are 100 percent local hire in the communities where we work, and we are looking for students that will compete for this scholarship and in turn come back to work in this industry, serving their local communities."
Preference will be given to Alaska Native students and students from Anchorage, Kenai, Palmer, Wasilla, Nenana, Fairbanks, Delta Junction, Glennallen, Valdez, Fort Yukon, Galena, St. Mary's, Iliamna, Bethel, Aniak, McGrath, Hooper Bay, St. Michael, Nome, Kotzebue and Prudhoe Bay. Crowley, the worldwide marine transportation and logistics services company, serves as the main marine fuel supply and distribution company in these communities.
Selection of the 2010 Crowley Scholarship recipients will be managed by the School of Fisheries and Ocean Sciences and the UAF Financial Aid Office, and will be announced Sept. 2. Interested applicants for the 2011-12 award should contact the UAF Financial Aid Office for more information.
Since 1953, Crowley has provided various marine, petroleum distribution and energy support services in Alaska — from the North Slope to Southcentral Alaska and both coastal and inland communities including those along the Kuskokwim and Yukon Rivers — and today has offices and operations throughout the state with more than 650 employees. The company has consistently provided unique solutions to Alaska's logistics and marine transportation challenges and played an important role in Alaska's business development and in protecting its environment.
Jacksonville-based Crowley Holdings, Inc., a holding company of the 118-year-old Crowley Maritime Corporation, is a privately held family and employee-owned company. The company provides diversified transportation and logistics services in domestic and international markets by means of six operating lines of business: Puerto Rico/Caribbean Liner Services, Latin America Liner Services, Logistics Services, Petroleum Services, Marine Services and Technical Services. Offered within these operating lines of business are the following services: liner container shipping, logistics, contract towing and transportation; ship assist and escort; energy support; salvage and emergency response through its TITAN Salvage subsidiary; vessel management; vessel construction and naval architecture through its Jensen Maritime subsidiary; government services, and petroleum and chemical transportation, distribution and sales. Additional information about Crowley, its subsidiaries and business units may be found on the Internet at www.crowley.com.
# # #