Crowley Delivers Six New Turbine Blades to Costa Rican Wind Mill Farm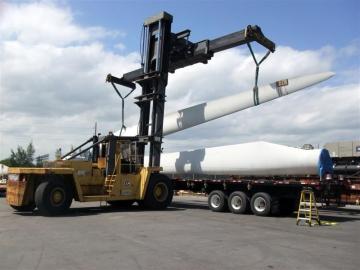 (JACKSONVILLE, Fla.; Nov. 9, 2011) – Crowley Maritime Corporation's liner services group recently shipped six oversized wind turbine blades from Port Everglades, Fla., to Limon, Costa Rica. The blades, which weighed two-and-a-half tons each and were 72 feet long, were lifted on board the Crowley ship Stadt Emden, using gantry cranes, slings and hooks, and transported to Costa Rica in time to meet the shipper's tight deadline. With a project solutions team, including project management professionals, engineers, naval architects and logistics experts, and specialized equipment such as ships, tugboats, flat-deck barges and jack-up barges, Crowley is uniquely suited to serve the renewable energy companies with their projects.
Jacksonville-based Crowley Holdings Inc., a holding company of the 119-year-old Crowley Maritime Corporation, is a privately held family and employee-owned company. The company provides project solutions, transportation and logistics services in domestic and international markets by means of six operating lines of business: Puerto Rico/Caribbean Liner Services, Latin America Liner Services, Logistics Services, Petroleum Services, Marine Services and Technical Services. Offered within these operating lines of business are: liner container shipping, logistics, contract towing and transportation; ship assist and escort; energy support; salvage and emergency response through its TITAN Salvage subsidiary; vessel management; vessel construction and naval architecture through its Jensen Maritime subsidiary; government services, and petroleum and chemical transportation, distribution and sales. Additional information about Crowley, its subsidiaries and business units may be found on the Internet at www.crowley.com.
# # #