Crowley Continues Growth in Caribbean with the Addition of Shipping and Logistics Services to St. Kitts and Nevis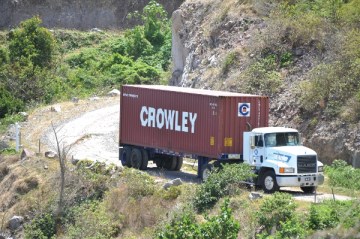 (MIAMI; May 17, 2012) – Crowley Maritime Corporation's logistics group announced today that it is expanding its Caribbean services beginning May 31 to include consolidated ocean and air cargo lifts to St. Kitts and Nevis from several points within the U.S. including Crowley's Caribbean gateway, its Miami distribution center. These new offerings will further enhance supply chain options for those shipping directly into the Leeward Islands and will complement Crowley's existing full-container-load (FCL) ocean services from the U.S. and its shipping and logistics services from Puerto Rico.
Hobson Enterprises, Crowley's local St. Kitts/Nevis representative for FCL liner shipments, will now also serve as the company's logistics agent, providing customers with a single point of contact for Crowley's FCL, less-than-container-load (LCL) and air cargo services from the U.S. They will also be able to assist customers with other value added services such as warehousing, cargo consolidation, distribution and more.
"The inclusion of services to St. Kitts and Nevis offers further expansion of Crowley's footprint in the Caribbean," said Carlos Rice, vice president, logistics.  "While individually these Caribbean islands may represent small markets, together they create a sizable territory for Crowley with unlimited growth potential."
Customers wishing to utilize logistics or cargo shipping services to either St. Kitts or Nevis should contact Ana Rocas, director, logistics operations; Neysa Cambo, manager, logistics; Mariela Menendez, supervisor, freight services or Jesus Condomina, director, sales and marketing by calling 305-463-4800. For full container load services including dry, refrigerated, autos, and project cargo please contact 1-800-CROWLEY or Tony Gucciardi, Director of Caribbean sales at 908-400-0454.
Jacksonville-based Crowley Holdings Inc., a holding company of the 120-year-old Crowley Maritime Corporation, is a privately held family and employee-owned company. The company provides project solutions, transportation and logistics services in domestic and international markets by means of six operating lines of business: Puerto Rico/Caribbean Liner Services, Latin America Liner Services, Logistics Services, Petroleum Services, Marine Services and Technical Services. Offered within these operating lines of business are: liner container shipping, logistics, contract towing and transportation; ship assist and escort; energy support; salvage and emergency response through its TITAN Salvage subsidiary; vessel management; vessel construction and naval architecture through its Jensen Maritime subsidiary; government services, and petroleum and chemical transportation, distribution and sales. Additional information about Crowley, its subsidiaries and business units may be found on the Internet at www.crowley.com.
#    #    #