Crowley Completes Harbor Class Tugs Re-powering Project in LA/Long Beach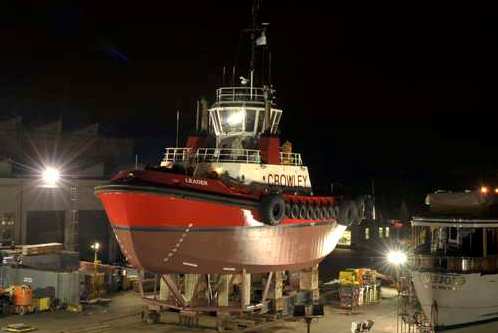 (Los Angeles, Calif.; June 16, 2010)—Crowley Maritime Corporation has reintroduced four re-powered Harbor class tugs to its ship assist and tanker escort fleet in the Ports of Los Angeles and Long Beach. The tugs Admiral, Leader, Scout and Master each underwent an extensive re-powering as part of an emissions and air quality initiative program by the Port of Los Angeles.
The project, launched in late 2006, focuses on re-powering the vessels' main engines and generators, and is part of a larger Port of Los Angeles emissions and air quality initiative, known as the San Pedro Bay Ports Clean Air Action Plan. The plan requires all vessel operators in the area to upgrade their engines to be Tier II emissions compliant by 2013.
"We are very pleased that Crowley finished this important initiative ahead of schedule," said Port of Los Angeles' Executive Director Geraldine Knatz, Ph.D. "This is an important environmental project, which is why the Port of Los Angeles invested $4 million to help make it happen. It's this kind of relationship between public agencies and private business that is making our Clean Air Action Plan so successful."
Crowley partnered with Bay Ship and Yacht Co. to handle the re-power project, which has resulted in a 3.24-ton reduction in particulate matter emissions and a 109.52-ton reduction in mono-nitrogen oxides per year, for all tugs combined. A $4 million Port of Los Angeles Air Quality Mitigation Incentive grant largely funded the re-power project. The tugs, which have been a staple on the waterfront for over ten years, each cost over $1 million to re-power.
"Crowley has long been recognized as a leader in the maritime industry, making significant investments to maintain and even advance our tugboat fleet. We recognized the opportunity to be a leader in the ports of Los Angeles and Long Beach by making our boats more fuel efficient and environmentally sound and we're happy to participate with the port's cause," said Frosty Leonard, manager of marine operations for Crowley in California.
The Port of Los Angeles is America's premier port and has a strong commitment to developing innovative strategic and sustainable operations that benefit the economy as well as the quality of life for the region and the nation it serves. As the leading seaport in North America in terms of shipping container volume and cargo value, the Port generates 919,000 regional jobs and $39.1 billion in annual wages and tax revenues. A proprietary department of the City of Los Angeles, the Port is self-supporting and does not receive taxpayer dollars. For more information, visit www.portoflosangeles.org.
Jacksonville-based Crowley Holdings, Inc., a holding company of the 117-year-old Crowley Maritime Corporation, is a privately held family and employee-owned company. The company provides diversified transportation and logistics services in domestic and international markets by means of six operating lines of business: Puerto Rico/Caribbean Liner Services, Latin America Liner Services, Logistics Services, Petroleum Services, Marine Services and Technical Services. Offered within these operating lines of business are the following services: liner container shipping, logistics, contract towing and transportation; ship assist and escort; energy support; salvage and emergency response through its TITAN Salvage subsidiary; vessel management; vessel construction and naval architecture through its Jensen Maritime subsidiary; government services, and petroleum and chemical transportation, distribution and sales. Additional information about Crowley, its subsidiaries and business units may be found on the Internet at www.crowley.com.
# # #