Crowley Combining Puerto Rico Facilities into Single Logistics Services Center for Improved Customer Experience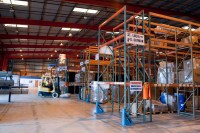 SAN JUAN, Puerto Rico – 
Further reinforcing its commitment to the Puerto Rico market, Crowley Maritime Corp. is enhancing its total suite of shipping and logistics solutions for consumers and businesses with the consolidation of its Caribbean logistics services into a single new facility in Guaynabo, Puerto Rico.
"By consolidating our non-vessel-operator-common-carrier (NVOCC) and less-than-container load (LCL) operations into a single logistics services center, we will be able to serve our customers more efficiently and handle increased cargo throughput, thereby providing an even higher level of service," said Ayesha Diaz, general manager of Crowley's Caribbean logistics group.
The new, combined logistics services center is located at Building 13 in Free Trade Zone #61, Rd 165, KM 2.4, Guaynabo, PR, 00965. Last week, Crowley began shifting its LCL and cross-dock business from Building 11 to Building 13. The newly consolidated warehouse and distribution center operations are scheduled to be fully up and running at Building 13 by April 18 after moving from Building 12.
The new facility has more truck dock doors than the previous facilities. To further expedite cargo handling and visibility, Crowley is streamlining its technology by deploying one warehouse management system (WMS) that will optimize shipment tracking from origin to final destination.
Crowley's full portfolio of shipping and logistics services in Puerto Rico includes: LCL and full container load (FCL) shipping; cargo consolidation and deconsolidation; inland transportation; customs brokerage; cargo insurance; warehousing; and pool-point distribution.
"In the current market, Crowley is the only service provider that can offer this complete door-to-door transportation and distribution solution to our customers" said Diaz.
"This consolidation is a significant enhancement, not only for our logistics customers but also for our liner shipping customers who are expanding their business with us because they see how we can streamline their supply chains and make them more cost effective by taking advantage of our logistics services here on the island and on the mainland," said Jose "Pache" Ayala, vice president, Puerto Rico services.
The latest customer service improvements are a continuation of Crowley's ongoing $500 million investment in the U.S.-Puerto Rico trade. The company recently broke ground on a construction project for a new pier at its Isla Grande Terminal in San Juan.  The project is designed to accommodate Crowley's two new liquefied natural gas (LNG)-powered, Commitment Class ships, which are under construction. Crowley's terminal expansion also includes the installation of three new ship-to-shore container gantry cranes, new truck access gates, reefer plugs, new containers and container handling equipment, and more.
Crowley has served the Puerto Rico market since 1954, longer than any other carrier in the trade, and occupied the 75-acre Isla Grande Terminal the entire time, making it the longest continual occupant of any Jones Act carrier in the trade. The company, with over 250 Puerto Rico employees, is also the No. 1 ocean carrier between the island commonwealth and the U.S. mainland with more weekly sailings and more cargo carried annually than any other shipping line.
Jacksonville-based Crowley Holdings Inc., a holding company of the 124-year-old Crowley Maritime Corporation, is a privately held family and employee-owned company. The company provides marine solutions, energy and logistics services in domestic and international markets by means of six operating lines of business: Puerto Rico Liner Services, Caribbean and Latin America Liner Services, Logistics Services, Petroleum Services, Marine Services and Technical Services. Offered within these operating lines of business are: liner container shipping, logistics, contract towing and transportation; ship assist and tanker escort; energy support; salvage and emergency response through its 50 percent ownership in Ardent Global; vessel management; vessel construction and naval architecture through its Jensen Maritime subsidiary; government services, and petroleum and chemical transportation, distribution and sales. Additional information about Crowley, its subsidiaries and business units may be found on the Internet at www.crowley.com.