Crowley Cargo Lightering Operation Successful Today in Port-au-Prince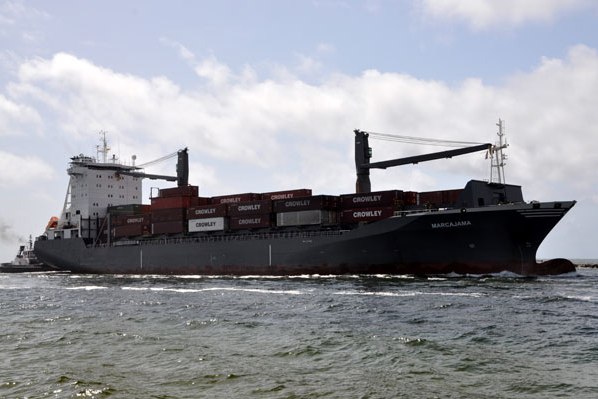 Clears way for container shipments directly to the damaged port next week.
Barges and cranes being mobilized for temporary docking and cargo ops in the port.
(Jacksonville, Fla.; Jan. 22, 2010) – Crowley Maritime Corporation, working under contract with the U.S. Transportation Command (USTRANSCOM), successfully discharged 12 20-foot containers of relief supplies across a beach in Port-au-Prince, Haiti, today in an experimental lightering operation. The success of this operation, which involved lifting the containers from a Crowley container ship anchored in the harbor to a smaller, shallow-draft landing vessel for transport and discharge over the beach, paves the way for container shipments directly into Port-au-Prince next week.
"Today's operation was an important milestone in reestablishing direct container shipments into the heavily damaged port," said John Hourihan, Crowley's senior vice president and general manager of Latin America services. "The port survey conducted Monday by a team from our TITAN Salvage subsidiary was spot on in terms of identifying a suitable location in the port where we could safely discharge the cargo."
"USTRANSCOM values the innovative solutions that our contractors are implementing to rapidly facilitate humanitarian assistance in support of the Haitian people," said Army Brig. Gen. Michael Lally, director of operations for the command.
The Crowley container ship Marcajama, which offloaded the containers today, is scheduled to return to Port Everglades, Fla. over the weekend and load more relief cargo under contract with USTRANSCOM. The ship will then return to Port-au-Prince in the middle of next week and discharge containers via the proven lightering method utilizing two shuttle vessels.
Future cargo operations in the port should improve substantially in the coming weeks. Crowley is mobilizing two 400-foot-long, 100-foot-wide flat deck barges, along with two Manitowoc 230-ton crawler cranes in the United States for USTRANSCOM that will be brought into Port-au-Prince to serve as a makeshift dock for future cargo operations. The first barge and crane in Orange, Texas, should arrive in Haiti on or about Feb. 4. The second deck barge is being outfitted in Lake Charles, La., and will arrive by mid-February.
"The diverse resources of the Crowley organization are being brought to the table in response to this emergency," Hourihan said. "We are working closely with USTRANSCOM, USAID, FEMA and other organizations to provide the assets, services and technical expertise they need to accomplish their missions."
Relief cargoes are being consolidated and stuffed into containers at Crowley's Miami warehouse and distribution center. Containers delivered by Crowley in Rio Haina, Dominican Republic this week are being trucked over the border into Haiti. And more shipments – 179 20-foot containers and 11 40-foot containers for USTRANSCOM – are due in Rio Haina Sunday morning.
"The combination of direct shipments into Port-au-Prince and shipments into Rio Haina that are then trucked over the border is now resulting in a steady flow of aid," said Hourihan.
While Crowley has suspended its regularly scheduled commercial cargo services to and from Haiti, a Crowley customer service group has been formed to answer questions and assist the shipping public interested in getting relief goods into Haiti. All inquiries should be made to 1-800-490-3321, or HaitiReliefCargo@crowley.com. Due to the unstable situation in the country, no relief cargo bookings will be accepted without being qualified by this Haiti Team customer service group.
"We believe our two methods of delivery into Port-au-Prince (lightering containers offshore and over-the-road trucking via Rio Haina) will soon allow Crowley to start accepting relief cargoes from non-government parties," said Tucker Gilliam, Crowley's general manager for Haiti and the Dominican Republic. "We continue to offer twice weekly service to and from the Dominican Republic for regular commercial cargoes.
Those wishing to contribute humanitarian supplies to Haiti's relief effort should do so by contacting non-profit organizations such as Food for the Poor or Catholic Relief Services.
Jacksonville-based Crowley Holdings Inc., a holding company of the 118-year-old Crowley Maritime Corporation, is a privately held family and employee-owned company. The company provides diversified transportation and logistics services in domestic and international markets by means of six operating lines of business: Puerto Rico/Caribbean Liner Services, Latin America Liner Services, Logistics Services, Petroleum Services, Marine Services and Technical Services. Offered within these operating lines of business are the following services: liner container shipping, logistics, contract towing and transportation; ship assist and escort; energy support; salvage and emergency response through its TITAN Salvage subsidiary; vessel management; vessel construction and naval architecture through its Jensen Maritime subsidiary; government services, and petroleum and chemical transportation, distribution and sales. Additional information about Crowley, its subsidiaries and business units may be found on the Internet at www.crowley.com.
# # #