Crowley Awards Scholarships to University of Alaska Fairbanks Students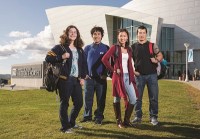 Crowley Maritime Corporation has awarded Crowley Scholarships to four University of Alaska Fairbanks (UAF) students, Allyson Wukovich, Isaac Peacock, Ashley Johnson and Gabriel Smith. Chosen for their academic achievements and meeting other scholarship criteria, each received $2,500 toward tuition from Crowley.
Preferences for Crowley-funded UAF scholarships are given to students from rural Alaska from Crowley-served communities throughout the state, including Kenai, Palmer, Wasilla, Nenana, Fairbanks, Delta Junction, Glennallen, Valdez, Fort Yukon, Galena, St. Mary's, Bethel, Aniak, McGrath, Hooper Bay, St. Michael, Nome, Kotzebue, Juneau, Ketchikan and Talkeetna.
"Crowley is proud to contribute to the academic success of these UAF students," said Crowley's Bob Cox, vice president, petroleum distribution. "Established in 2010, this program continues to support students who are committed to pursuing higher education as a means to help their community and Alaska."
Wukovich, who is from Nome, Alaska, is working toward a biology major with a concentration in cell and molecular biology. After graduation, she's interested in working at a hospital lab to identify risk and prevention of certain disorders. In addition to her studies, Wukovich is an intern at the Norton Sound Regional Hospital laboratory.
Peacock, from Kotzebue, Alaska, is a criminal justice major going into his sophomore year at UAF. Upon graduation, he is interested in staying in the Kotzebue area and serving his community as a police officer.
Johnson is a junior from Bethel, Alaska, and is a rural development major. She attended the Rural Alaskans Honor Institute in 2012 and is interested in working in a job that benefits Alaska and its rural communities. 
Smith, from Nome, Alaska, is a freshman working towards a degree in wildlife biology and conservation. In addition to his studies, he works for the Norton Sound Economic Development Corporation as a fisheries technician. After his time at UAF, Smith plans to stay in Alaska and become a wildlife biologist for Alaska Department of Fish and Game.
About Crowley Maritime Corp.
Crowley, which has been serving Alaska for more than 60 years, currently operates 22 fuel terminals in western Alaska and the rail belt, with over 265 employees. The company continues to position itself as a leader in the Alaska fuel industry, providing transportation, distribution and sales of petroleum products to more than 280 communities across Alaska. Crowley also supports the energy industry on the North Slope with summer sealifts of large production modules and various marine transportation services. At the southern terminus of the trans-Alaska oil pipeline, Crowley provides tanker escort and docking services in Valdez Harbor and Prince William Sound for Alyeska Pipeline Service Company's Ship Escort/Response Vessel System, utilizing some of the most technologically advanced and powerful tugboats in the world.
To learn more about Crowley's petroleum distribution operations in Alaska, click here.