Crowley Awards Scholarships to Two Students in the Williams-Mystic Maritime Studies Program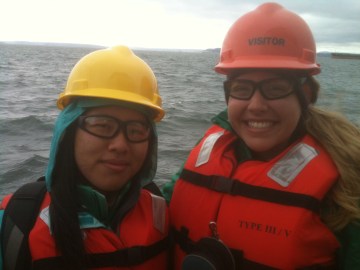 Scholarship winners Ariel Zhou (left) and Caiti Campbell (right) aboard Crowley's tug, Guardsman
(Jacksonville, Fla., April 12, 2012) ­– Crowley recently awarded Thomas B. Crowley Sr. Memorial Scholarships to Ariel Zhou and Caiti Campbell, who are taking part in the Maritime Studies Program of Williams College and Mystic Seaport this spring. They were chosen for their strong academic records, interest in maritime studies and financial need.
Zhou, a native of Nanjing, China, is studying biology at Pennsylvania's Bryn Mawr College. She joined the Williams-Mystic Maritime Studies Program to gain a broader perspective of all aspects of marine science and maritime history. Zhou plans to use her experience to pursue graduate degrees in biology.
Campbell, a native of New Jersey's Barnegat Bay, is pursuing a bachelor's degree in environmental communications with a minor in maritime studies at Pennsylvania's Moravian College of Bethlehem. She plans to apply what she learns in the program to her next endeavor as a park ranger at Alaska's Kenai Fjords National Park this summer.
Recently, Zhou and Campbell, along with 22 other program classmates, went on a harbor tour of Seattle onboard Crowley's tug,Guardsman, as part of their Pacific Coast field trip.
The Williams-Mystic Maritime Studies Program is a joint effort of Williams College and Mystic Seaport, which brings a unique hands-on approach to maritime education for students from various colleges all over the country.  It's a semester-long program centered on three field trips to the Pacific, Gulf, and Atlantic Coasts.  Crowley offers scholarship opportunities for two students per semester who otherwise wouldn't be able to afford tuition for the program. 
Since 1984, Crowley has provided more than half-a-million dollars in scholarship funding for more than 200 students studying at maritime academies and other select institutions in the U.S., Alaska, Puerto Rico and Central America. In 1994, Crowley Chairman, President and CEO, Tom Crowley Jr., established the Thomas B. Crowley Sr. Memorial Scholarship Program, in honor of his father, and has also donated more than $2 million over the years to support other educational programs.
To learn more about the Thomas B. Crowley Sr. Memorial Scholarship program, visit www.crowley.com/scholarships.
Jacksonville-based Crowley Holdings Inc., a holding company of the 120-year-old Crowley Maritime Corporation, is a privately held family and employee-owned company. The company provides project solutions, transportation and logistics services in domestic and international markets by means of six operating lines of business: Puerto Rico/Caribbean Liner Services, Latin America Liner Services, Logistics Services, Petroleum Services, Marine Services and Technical Services. Offered within these operating lines of business are: liner container shipping, logistics, contract towing and transportation; ship assist and escort; energy support; salvage and emergency response through its TITAN Salvage subsidiary; vessel management; vessel construction and naval architecture through its Jensen Maritime subsidiary; government services, and petroleum and chemical transportation, distribution and sales. Additional information about Crowley, its subsidiaries and business units may be found on the Internet at www.crowley.com.
#     #     #