Crowley Awards Scholarships to Three USMMA Cadets at the 2015 Connie Awards Dinner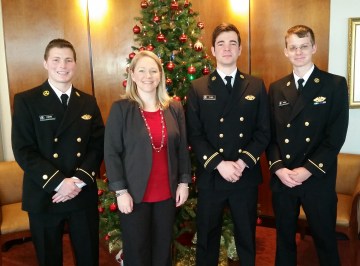 (JACKSONVILLE, Fla.; Dec. 8, 2015) – The Crowley Maritime Corporation awarded three United States Merchant Marine Academy (USMMA) cadets with Thomas B. Crowley Sr. Memorial scholarships at the Containerization and Intermodal Institute's Connie Awards luncheon yesterday in Newark, N.J. Crowley's Jenny Terpenning, supervisor, marine recruiting, presented the scholarships to the recipients at the event.
Recipient William Murray is a first class midshipman studying logistics. At his time at USMMA, he has sailed aboard a containership, an oil tanker, an LNG carrier and participated in an academic research project regarding the development of larger containerships and their affect on the liner shipping industry. After his time at King's Point, Murray plans to pursue a career at sea in addition to continuing his education by pursuing a master's degree in supply chain management.
Peter Tolles, a recipient from Clontarf, Minn., is a first class midshipman at King's Point. Majoring in logistics and intermodal transportation, Tolles plans on sailing commercial vessels in the US Merchant Marine after graduation. In addition to his sailing career, he intends on continuing his education by pursuing a master's degree.
First classman Robert Tirrito from Centerpoint, N.Y., is studying systems engineering with a minor in oceanography. During his second sailing period at USMMA, he served as an engine cadet aboard the M/V St. Louis Express for 70 days. After graduation, he plans on sailing as a third engineer.
Since 1984, Crowley has provided more than $3 million dollars in scholarship funding for more than 1,000 students studying at maritime academies and other select institutions in the U.S., Puerto Rico and Central America. In 1994, Crowley Chairman and CEO, Tom Crowley Jr., established the Thomas B. Crowley Sr. Memorial Scholarship Program, in honor of his father, and has also donated more than $2 million to support other educational programs.
To learn more about the Thomas B. Crowley Sr. Memorial Scholarship program, visit www.crowley.com/scholarships.
Jacksonville-based Crowley Holdings Inc., a holding company of the 123-year-old Crowley Maritime Corporation, is a privately held family and employee-owned company. The company provides project solutions, energy and logistics services in domestic and international markets by means of six operating lines of business: Puerto Rico/Caribbean Liner Services, Latin America Liner Services, Logistics Services, Petroleum Services, Marine Services and Technical Services. Offered within these operating lines of business are: liner container shipping, logistics, contract towing and transportation; ship assist and escort; energy support; salvage and emergency response through its 50 percent ownership in Ardent Global; vessel management; vessel construction and naval architecture through its Jensen Maritime subsidiary; government services, and petroleum and chemical transportation, distribution and sales. Additional information about Crowley, its subsidiaries and business units may be found at www.crowley.com.
#     #     #