Crowley Awards Scholarships to Four Williams-Mystic Students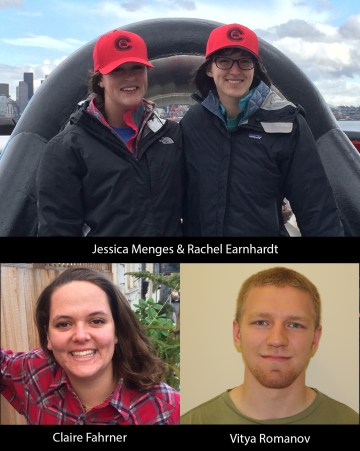 Four Williams-Mystic Maritime Studies Program students have been awarded scholarships by Crowley Maritime Corporation. Claire Fahrner, Vitya Romanov, Rachel Earnhardt and Jessica Menges were each chosen as a result of their academic excellence, morale and community involvement. The students also exhibited strong leadership qualities and were articulate spokespeople for maritime education, according to Sarah A. Jordan, Williams-Mystic's director of alumni and development.
Farner is a senior at Mount Holyoke College in Massachusetts focusing on environmental studies.  Romanov is a senior at University of Massachusetts Amherst majoring in geography and studying environment and public policy. Rachel Earnhardt is a junior at Wesleyan University in Connecticut majoring in history and environmental studies. And Menges is a senior at the Maine Maritime Academy studying marine biology and small vessel operations.
The Williams-Mystic Maritime Studies Program is a joint effort of Williams College and Mystic Seaport, which brings a unique hands-on approach to maritime education for students from various colleges all over the country. It's a semester-long program centered on three field trips to the Pacific, Gulf and Atlantic coasts. Crowley offers scholarship opportunities during each fall and spring semester to students who otherwise wouldn't be able to afford tuition for the program.
Since 1984, Crowley has provided more than $3 million dollars in scholarship funding for more than 1,000 students. The company has also donated more than $2 million over the years to support other educational programs.  In 1994, Chairman and CEO Tom Crowley Jr., established the Thomas B. Crowley Sr. Memorial Scholarship Program in honor of his father who led the company to extraordinary heights before passing away in 1994. The company continues to give scholarship dollars to deserving students in the U.S., Alaska and Puerto Rico. In 2006, the program was expanded to Central America and to date, has provided financial assistance to more than 20 students in that region. To learn more about the Thomas B. Crowley Sr. Memorial Scholarship program, visit www.crowley.com/scholarships.
To learn more about Jacksonville-based Crowley Maritime Corp., a 124-year-old privately held company that provides marine solutions, energy and logistics services around the world, please visit: www.crowley.com
#     #     #