Crowley Awarded Large, Multi-year U.S. Department of Defense Freight Services Contract
The U.S. Transportation Command (TRANSCOM), an agency of the U.S. Department of Defense (DOD), has awarded Crowley Logistics Inc., a subsidiary of Crowley Maritime Corp., a multi-year contract to provide transportation and related services supporting Department of Defense activities in the U.S. and Canada. 
The Department of Defense Freight Transportation Services (DFTS) contract is one of the largest logistics contracts awarded by the U.S. government. The period of performance is two base years followed by five option years for a total value of approximately 2.3 billion dollars.
"We are very proud and appreciative of the opportunity to support our country and the Defense Department with transportation and logistics services through this new TRANSCOM contract," said Tom Crowley, company chairman and CEO. "We will reward TRANSCOM's confidence in us by providing the highest quality service with safety, integrity and high performance."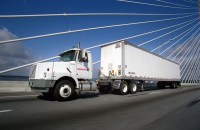 The program encompasses all forms of truck transportation to include less than truckload, full truckload, expedited and refrigerated services. Delivery locations will include vendor facilities, Defense Department warehouses or depots, and U.S. military installations. 
"Our purpose as a company, be it today or as we enter our 125th year in business next year, is, 'enriching lives through innovative solutions done right.' We are proud of our past work together with the U.S. military, and look forward to this next chapter of our service to the armed forces.This award is a testament to the entire Crowley team's focus on moving beyond ocean transportation to crafting complete supply chain solutions for all our customers," said Frank Larkin, senior vice president and general manager, logistics and commercial services. 
Larkin noted that Crowley's participation in this contract will provide more than 70 new employment opportunities in the local Jacksonville community.
 
Jacksonville-based Crowley Holdings Inc., a holding company of the 124-year-old Crowley Maritime Corporation, is a privately held family and employee-owned company. The company provides marine solutions, energy and logistics services in domestic and international markets by means of six operating lines of business: Puerto Rico Liner Services, International Liner Services, Logistics Services, Petroleum Services, Marine Services and Technical Services. Offered within these operating lines of business are: liner container shipping, logistics, contract towing and transportation; ship assist and escort; energy support; salvage and emergency response through its 50 percent ownership in Ardent Global; vessel management; vessel construction and naval architecture through its Jensen Maritime subsidiary; government services, and petroleum and chemical transportation, distribution and sales. Additional information about Crowley, its subsidiaries and business units may be found at crowley.com.