Crowley Awarded for Early Environmental Efforts in Los Angeles/Long Beach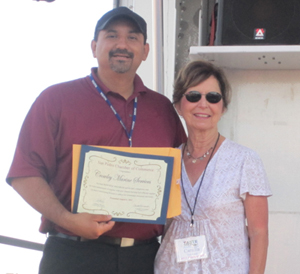 (LOS ANGELES, Oct. 4, 2011) – Crowley Maritime Corporation's environmental efforts were recognized by the San Pedro Chamber of Commerce during a recent award ceremony at the Taste in San Pedro Fair. During the event, Chamber President and CEO Camilla Townsend presented certificates of recognition to the many local businesses that have made efforts to reduce emissions in the area.
The award was given as a result of Crowley's recent early completion of an extensive re-powering of the main engines and generators of the company's harbor class tugs, Admiral, Leader, Scout and Master. Crowley finished the project in April 2010, well ahead of the regulatory deadline of 2013, at which time all vessel operators in the area will be required to be Tier II emissions compliant.
Crowley also received recognition for using shoreside electricity to power its tugs while docked and awaiting future jobs. The process, sometimes referred to as cold ironing, helps to reduce emissions and noise. This was done in conjunction with the Port of Los Angeles emission and air quality initiative, launched in 2006 and known as the San Pedro Bay Ports Clean Air Action Plan. A $4 million Port of Los Angeles air quality mitigation incentive helped to fund the project.
Crowley's Javier Montano, engineering manager, who as attending port engineer helped to ensure that the shipyard complied with all requirements of the repowering project, accepted the award on Crowley's behalf.
"We're really grateful for this recognition from the San Pedro Chamber of Commerce," said Montano. "We're also very appreciative of the financial support from the Port of Los Angeles to complete this project. The fact that we were able to get this done well ahead of 2013 is further evidence of our commitment to providing customers with quality service with best technology, while at the same time preserving natural resources and helping citizens in the area breathe a little easier."
Crowley partnered with Bay Ship and Yacht Co., of Alameda, Calif., to complete the project, which has resulted in a 3.24-ton reduction in particulate matter emissions and a 109.52-ton reduction in mono-nitrogen oxides per year, for all tugs combined.
Crowley's commitment to environmental protection is stated in its safety, environmental, quality and security policy: "Crowley companies place the highest priority on individual safety, security, prevention of pollution and customer satisfaction." The environmental protection program (certified to the ISO 14001 standard) is one of the primary tenets of the way Crowley and its subsidiaries do business.
Over the years, Crowley's environmental efforts have been recognized in various ways-including the U.S. Coast Guard William M. Benkert Marine Environmental Protection Award (2000); the Air Emissions Southern California Air Quality Award; awards for sustainability in buildings and vessels, including LEED certification for the company's corporate offices in Jacksonville, Fla.; Green Passport for ATB barges; spill prevention from ECOPRO; and the U.S. Chamber of Shipping Environmental Achievement Award.
The Port of Los Angeles is America's premier port and has a strong commitment to developing innovative strategic and sustainable operations that benefit the economy as well as the quality of life for the region and the nation it serves. As the leading seaport in North America in terms of shipping container volume and cargo value, the Port generates 919,000 regional jobs and $39.1 billion in annual wages and tax revenues. A proprietary department of the City of Los Angeles, the Port is self-supporting and does not receive taxpayer dollars. For more information, visit www.portoflosangeles.org.
Jacksonville-based Crowley Holdings Inc., a holding company of the 119-year-old Crowley Maritime Corporation, is a privately held family and employee-owned company. The company provides project solutions, transportation and logistics services in domestic and international markets by means of six operating lines of business: Puerto Rico/Caribbean Liner Services, Latin America Liner Services, Logistics Services, Petroleum Services, Marine Services and Technical Services. Offered within these operating lines of business are: liner container shipping, logistics, contract towing and transportation; ship assist and escort; energy support; salvage and emergency response through its TITAN Salvage subsidiary; vessel management; vessel construction and naval architecture through its Jensen Maritime subsidiary; government services, and petroleum and chemical transportation, distribution and sales. Additional information about Crowley, its subsidiaries and business units may be found on the Internet at www.crowley.com.
#     #     #