Crowley and Puerto Rico Teamsters Union Local 901 Reach Agreement on New Five-Year Labor Contract
(SAN JUAN, PUERTO RICO; March 29, 2012) – Crowley Maritime Corporation's liner services group and Puerto Rico Teamsters Union Local 901 have reached an agreement on a new five-year labor contract covering union employees working at Crowley's San Juan terminal. The new contract is effective from March 27, 2012, through March 26, 2017.
"This new agreement continues Crowley's commitment to the trade and our long-term desire to grow and reinvest in the services we provide to our customers in Puerto Rico and the U.S.," said John Douglass, senior vice president and general manager, Puerto Rico and Caribbean services. "We have successfully worked with the Teamsters Union to provide uninterrupted cargo transportation services with no strikes or work stoppages for over 40 years, and we look forward to continuing our mutually beneficial relationship for many years to come."
Crowley has operated in Puerto Rico since 1954, and during that time has developed a strong and lasting relationship with the Puerto Rico community and its union team members. The company employs more than 260 people on the island, including members of Teamsters Local 901, who perform terminal operations and stevedoring services at Crowley's Isla Grande terminal in San Juan.
"This new five-year agreement will provide continued stability for our operations and workforce in San Juan," said Jose "Pache" Ayala, Crowley's vice president in Puerto Rico. "Providing a quality, reliable service starts with having quality people working safely and efficiently to handle our customers' cargoes. And that's what we have with our union team members."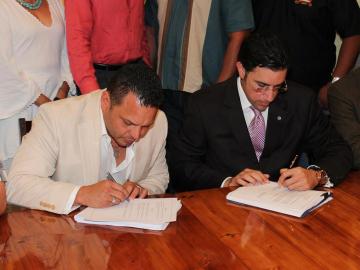 Crowley is the leading ocean cargo carrier in the Puerto Rico trade, transporting nearly one out of every three containers or trailers moving between Puerto Rico and the U.S. mainland. The company offers up to three weekly sailings between San Juan and Jacksonville, Fla., and a weekly sailing between San Juan and Pennsauken, N.J. Crowley also provides weekly sailings between San Juan and the Dominican Republic, U.S. Virgin Islands and Eastern Caribbean.
Jacksonville-based Crowley Holdings Inc., a holding company of the 120-year-old Crowley Maritime Corporation, is a privately held family and employee-owned company. The company provides project solutions, transportation and logistics services in domestic and international markets by means of six operating lines of business: Puerto Rico/Caribbean Liner Services, Latin America Liner Services, Logistics Services, Petroleum Services, Marine Services and Technical Services. Offered within these operating lines of business are: liner container shipping, logistics, contract towing and transportation; ship assist and escort; energy support; salvage and emergency response through its TITAN Salvage subsidiary; vessel management; vessel construction and naval architecture through its Jensen Maritime subsidiary; government services, and petroleum and chemical transportation, distribution and sales. Additional information about Crowley, its subsidiaries and business units may be found on the Internet at www.crowley.com.
#     #     #
Caption, lower photo: Alexis Rodriguez, secretary treasurer and principal officer of the Teamsters, and Jose "Pache" Ayala, Crowley's vice president in Puerto Rico, sign the agreement.