Crowley and its employees make $80,000 donation to the American Red Cross Haiti Relief Fund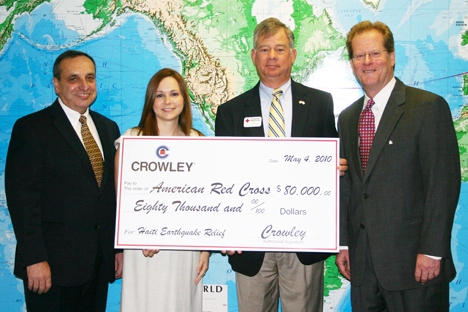 Company Matched Employee Donations Dollar-for-dollar
(Jacksonville, Fla.; May 6, 2010) – Crowley Maritime Corporation and its employees this week donated $80,000 to the American Red Cross in support of Haiti relief efforts.
Bill Pennella, Crowley vice chairman and executive vice president; Francheska Acevedo, Crowley human resources representative; and John Hourihan, senior vice president and general manager of Crowley's Latin America service, presented the check to Jack Morgan, CEO of the Northeast Florida Chapter of the American Red Cross.
Shortly after the massive earthquake, Crowley, which offers weekly scheduled commercial cargo service to Haiti, announced to its employees that the company would match all donations dollar-for-dollar made specifically to the American Red Cross Haiti relief fund. Crowley employees and crewmembers throughout the United States and abroad participated in the charity drive.
"The gift from Crowley employees and Crowley Maritime to the American Red Cross International Response Fund in support of Haiti relief efforts will have a significant impact on those lives devastated by this disaster," Morgan said. "Crowley and its employees contributions will touch many lives as they rebuild."
In addition to making this monetary donation, Crowley worked closely with the U.S. Transportation Command (USTRANSCOM) after the disaster to reopen direct cargo operations in Haiti, allowing humanitarian relief from multiple shippers to enter the country. Crowley successfully completed the largest post-disaster lightering operation to date on Jan. 28 when the company successfully discharged 202 20-foot containers of relief supplies across a beach in Port-au-Prince. Crowley also mobilized two 400-foot-long, 100-foot-wide flat deck barges, along with two Manitowoc 230-ton crawler cranes that are still serving as a makeshift dock for cargo operations, as the port is rebuilt.
About the American Red Cross, Northeast Florida Chapter: www.nefloridaredcross.org
About Crowley: www.crowley.com
# # #