Crowley Adds 222 New Refrigerated Containers to Fleet in Advance of the Peak Perishables Shipping Season in Central America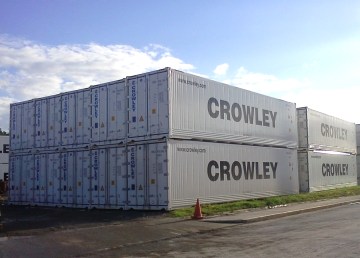 (JACKSONVILLE, Fla., Nov. 8, 2011) ­ – Crowley Maritime Corporation's liner services group is enhancing its growing equipment fleet of more than 45,000 modern units with the acquisition of 222 new 40-foot, high cube refrigerated containers (reefers) and 133 under-slung power generator sets (gensets). The reefers, which will be used in all of the company's liner services, were delivered in Santo Tomas, Guatemala, last week in preparation for the peak perishables shipping season in Central America. That season runs from November through May each year and includes a large volume of melon shipments.
"We are gearing up for the melon season in Central America, and the delivery of these brand new units comes at a perfect time for us to meet the needs of our customers," said John Hourihan, senior vice president and general manager, Latin America. "Refrigerated cargo is a large part of our business in Central America and the Caribbean and we always want to provide our customers with not only clean, modern and reliable equipment, but also in the sizes and quantities that they need."
The newly acquired reefers, which have a capacity of 2,398 cubic feet, have been outfitted with new, lighter Star Cool Integrated refrigerator units that are designed to reduce CO2 emissions and are enhanced with software that helps monitor and adjust them to ensure they're operating at peak performance.
Since 2003, Crowley has invested close to $240 million to modernize its equipment fleet by nearly 24,000 units. Most recently, in October of this year, Crowley added 400 53-foot (102″ wide) containers and 375 53-foot chassis to meet the needs of customers in Puerto Rico and the Caribbean.
Jacksonville-based Crowley Holdings Inc., a holding company of the 119-year-old Crowley Maritime Corporation, is a privately held family and employee-owned company. The company provides project solutions, transportation and logistics services in domestic and international markets by means of six operating lines of business: Puerto Rico/Caribbean Liner Services, Latin America Liner Services, Logistics Services, Petroleum Services, Marine Services and Technical Services. Offered within these operating lines of business are: liner container shipping, logistics, contract towing and transportation; ship assist and escort; energy support; salvage and emergency response through its TITAN Salvage subsidiary; vessel management; vessel construction and naval architecture through its Jensen Maritime subsidiary; government services, and petroleum and chemical transportation, distribution and sales. Additional information about Crowley, its subsidiaries and business units may be found on the Internet at www.crowley.com.
# # #