Crowley Adds 16 ISO Tanks to LNG Equipment Fleet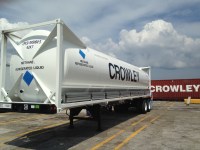 Tanks Offer Improved Technology for Faster Fuel Offloading
(JACKSONVILLE, Fla.; July 20, 2015) ­– In response to high customer demand, Crowley Maritime Corp. has acquired 16 additional ISO tanks for its Carib Energy group that will be used to  supply, transport and distribute U.S.-sourced liquefied natural gas (LNG) to customers in Puerto Rico, the Caribbean and Central America. The 40-foot tanks, which each hold 10,700 gallons of LNG, now feature technological improvements that increase the offload rate, allowing for faster fuel transfers to customers.
"Adding ISO tanks to our equipment fleet for our established business not only allows us to meet heightened customer demand, but also to continue delivering an uninterrupted supply of LNG to these regions," explained Crowley Vice President Greg Buffington. "And the improved offloading performance reduces the amount of time required to transfer the fuel from tank to the storage unit, adding to overall efficiency. It is our pleasure to play a pivotal role in supplying a cost-effective, safe, reliable and environmentally friendly natural gas fuel to customers."
View this video to learn more about Crowley's LNG business. From the sourcing and transportation to the delivery into the equipment, the entire LNG supply chain is seamless for Crowley customers. The transportation from U.S.-based liquefaction facilities to customers' storage units is managed by Crowley's domestic logistics team, which coordinates over-the-road transportation to the company's Jacksonville or Port Everglades, Fla., shipping terminals. Once at the terminal, the containers are loaded onto company-owned vessels and transported to customers' locales.  At the port of entry  Crowley's on-site logistics team delivers the LNG to  customers' facilities where it is re-gasified into pipeline natural gas for boiler consumption.
In 2014, Crowley's Carib Energy  was granted a 20-year, small-scale U.S. Department of Energy (DOE) export license for the supply, transportation and distribution of LNG into Non-Free Trade Agreement (NTFA) countries in the Caribbean, Central and South America. The licensing permits Crowley to export 14.6 billion cubic feet (BCF) 0.04bcf/d of LNG – roughly the equivalent of 480,000 gallons – per day via 10,700 gallon ISO tanks to these regions.
Also in 2014, Crowley announced the signing of a multi-year contract with Coca-Cola Bottlers of Puerto Rico to supply containerized, U.S.-sourced LNG to two of the manufacturer's plants in Cayey and Cidra, Puerto Rico. A major pharmaceutical company also contracted with Crowley for its LNG and the company  continues to discuss its LNG solution with  several other potential industrial customers. 
Jacksonville-based Crowley Holdings Inc., a holding company of the 123-year-old Crowley Maritime Corporation, is a privately held family and employee-owned company. The company provides project solutions, energy and logistics services in domestic and international markets by means of six operating lines of business: Puerto Rico/Caribbean Liner Services, Latin America Liner Services, Logistics Services, Petroleum Services, Marine Services and Technical Services. Offered within these operating lines of business are: liner container shipping, logistics, contract towing and transportation; ship assist and escort; energy support; salvage and emergency response through its TITAN Salvage subsidiary; vessel management; vessel construction and naval architecture through its Jensen Maritime subsidiary; government services, and petroleum and chemical transportation, distribution and sales. Additional information about Crowley, its subsidiaries and business units may be found on the Internet at www.crowley.com.
#     #     #